Policy
|
Center for Energy & Environment
FACT SHEET: The Economic Benefits of Natural Gas: The Mountain Valley Pipeline and the Need for Further Pipeline Expansion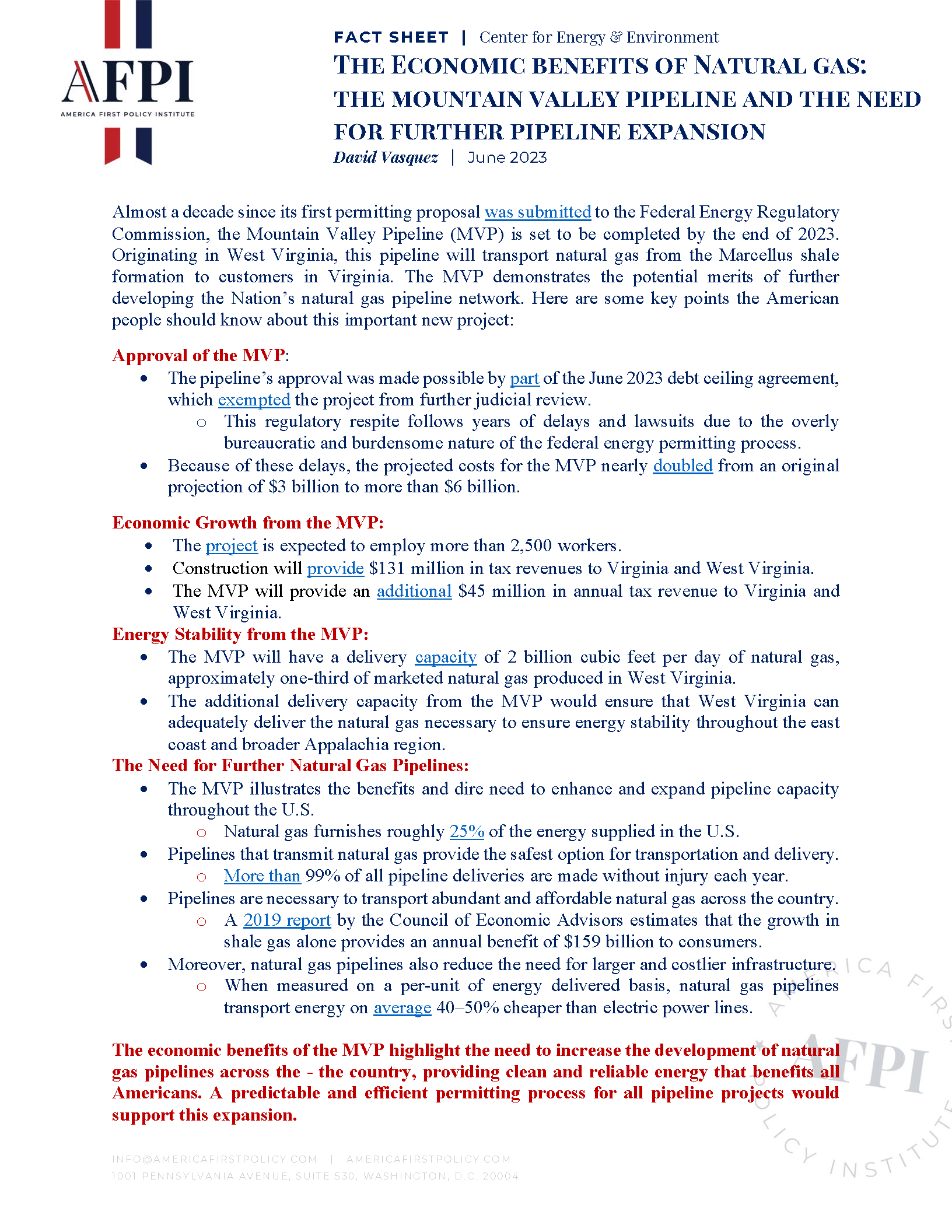 Almost a decade since its first permitting proposal was submitted to the Federal Energy Regulatory Commission, the Mountain Valley Pipeline (MVP) is set to be completed by the end of 2023. Originating in West Virginia, this pipeline will transport natural gas from the Marcellus shale formation to customers in Virginia. The MVP demonstrates the potential merits of further developing the Nation's natural gas pipeline network. Here are some key points the American people should know about this important new project:
Approval of the MVP:
The pipeline's approval was made possible by part of the June 2023 debt ceiling agreement, which exempted the project from further judicial review.

This regulatory respite follows years of delays and lawsuits due to the overly bureaucratic and burdensome nature of the federal energy permitting process.

Because of these delays, the projected costs for the MVP nearly doubled from an original projection of $3 billion to more than $6 billion.
Economic Growth from the MVP:
The project is expected to employ more than 2,500 workers.
Construction will provide $131 million in tax revenues to Virginia and West Virginia.
The MVP will provide an additional $45 million in annual tax revenue to Virginia and West Virginia.
Energy Stability from the MVP:
The MVP will have a delivery capacity of 2 billion cubic feet per day of natural gas, approximately one-third of marketed natural gas produced in West Virginia.
The additional delivery capacity from the MVP would ensure that West Virginia can adequately deliver the natural gas necessary to ensure energy stability throughout the east coast and broader Appalachia region.
The Need for Further Natural Gas Pipelines:
The economic benefits of the MVP highlight the need to increase the development of natural gas pipelines across the - the country, providing clean and reliable energy that benefits all Americans. A predictable and efficient permitting process for all pipeline projects would support this expansion.