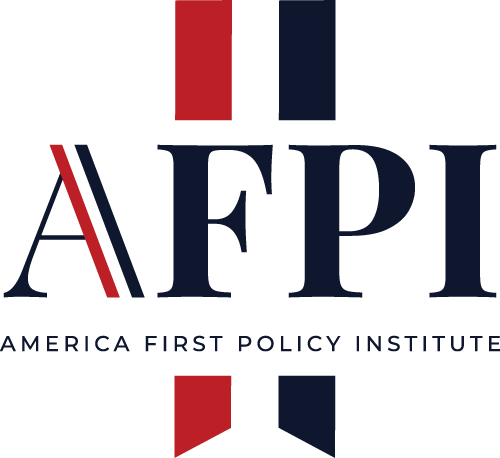 Center for a Healthy America
Top America first actions needed to put patients and doctors back in charge of healthcare
September 19, 2023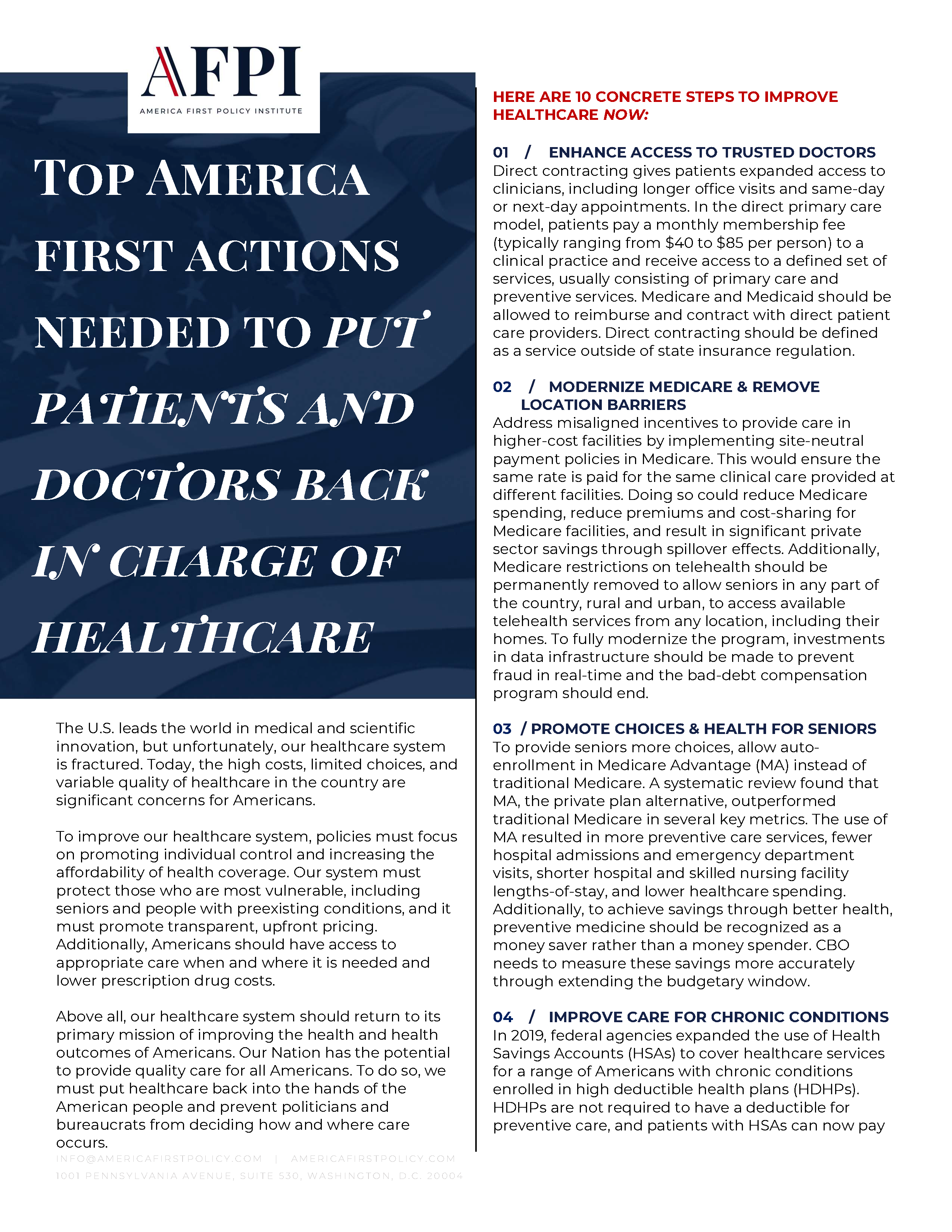 Download
Full Report
The U.S. leads the world in medical and scientific innovation, but unfortunately, our healthcare system is fractured. Today, the high costs, limited choices, and variable quality of healthcare in the country are significant concerns for Americans.
To improve our healthcare system, policies must focus on promoting individual control and increasing the affordability of health coverage. Our system must protect those who are most vulnerable, including seniors and people with preexisting conditions, and it must promote transparent, upfront pricing. Additionally, Americans should have access to appropriate care when and where it is needed and lower prescription drug costs.
Above all, our healthcare system should return to its primary mission of improving the health and health outcomes of Americans. Our Nation has the potential to provide quality care for all Americans. To do so, we must put healthcare back into the hands of the American people and prevent politicians and bureaucrats from deciding how and where care occurs.
HERE ARE 10 CONCRETE STEPS TO IMPROVE HEALTHCARE NOW:
01 / ENHANCE ACCESS TO TRUSTED DOCTORS
Direct contracting gives patients expanded access to clinicians, including longer office visits and same-day or next-day appointments. In the direct primary care model, patients pay a monthly membership fee (typically ranging from $40 to $85 per person) to a clinical practice and receive access to a defined set of services, usually consisting of primary care and preventive services. Medicare and Medicaid should be allowed to reimburse and contract with direct patient care providers. Direct contracting should be defined as a service outside of state insurance regulation.
02 / MODERNIZE MEDICARE & REMOVE LOCATION BARRIERS
Address misaligned incentives to provide care in higher-cost facilities by implementing site-neutral payment policies in Medicare. This would ensure the same rate is paid for the same clinical care provided at different facilities. Doing so could reduce Medicare spending, reduce premiums and cost-sharing for Medicare facilities, and result in significant private sector savings through spillover effects. Additionally, Medicare restrictions on telehealth should be permanently removed to allow seniors in any part of the country, rural and urban, to access available telehealth services from any location, including their homes. To fully modernize the program, investments in data infrastructure should be made to prevent fraud in real-time and the bad-debt compensation program should end.
03 / PROMOTE CHOICES & HEALTH FOR SENIORS
To provide seniors more choices, allow autoenrollment in Medicare Advantage (MA) instead of traditional Medicare. A systematic review found that MA, the private plan alternative, outperformed traditional Medicare in several key metrics. The use of MA resulted in more preventive care services, fewer hospital admissions and emergency department visits, shorter hospital and skilled nursing facility lengths-of-stay, and lower healthcare spending. Additionally, to achieve savings through better health, preventive medicine should be recognized as a money saver rather than a money spender. CBO needs to measure these savings more accurately through extending the budgetary window.
04 / IMPROVE CARE FOR CHRONIC CONDITIONS
In 2019, federal agencies expanded the use of Health Savings Accounts (HSAs) to cover healthcare services for a range of Americans with chronic conditions enrolled in high deductible health plans (HDHPs). HDHPs are not required to have a deductible for preventive care, and patients with HSAs can now pafor preventive care of chronic conditions before meeting a minimum deductible. This gives individuals more options for managing their health and should be made permanent. The approach should also be broadened to allow insurance companies to offer condition-specific health insurance plans for the most common chronic conditions.
05 / INCREASE AFFORDABLE HEALTH PLANS & ALTERNATIVE FORMS OF COVERAGE
Increasing healthcare coverage options can improve affordability by fostering greater competition. Association health plans (AHPs) allow certain small employers to join together to purchase health insurance. Congress should create a pathway for small businesses, working owners, and sole proprietors to access AHPs by broadening the criteria for determinations of when employers may join in a group or association to access the benefits of the large-group insurance markets. Similarly, Congress should codify the availability of short-term, limitedduration insurance plans as 12-month terms with renewals up to three years. Finally, Congress should ensure Americans can purchase any health plan approved by their state insurance commissioners who are the primary regulators of health insurance.
06 / PROMOTE INDIVIDUAL CONTROL
Americans currently have little control their health coverage options and limited ability to steward their own resources. Policies that expand and liberalize health savings accounts (HSAs) and health reimbursement arrangements (HRAs) would help address Americans' lack of individual control over how their money is spent. HSAs are tax-advantaged accounts that can be used to pay and save for unreimbursed medical expenses. HRAs allow employer contributions to reimburse employee health expenses through an account-based group health plan. Additionally, new options should be created for full health coverage allotments to be directly deposited into HSAs for individuals to then customize care packages. For example, one could use HSA funds to obtain primary care through direct contracting and combine with both catastrophic coverage for emergencies and condition-specific coverage for planned health needs.
07 / CREATE FLEXIBILITY FOR STATES
States should be empowered to create a more free and open healthcare market through increased flexibility in the individual market and in Medicaid. In designing options, local and state demographics and disease burdens can be considered to facilitate condition-specific disease coverage options for the most prevalent conditions, such as diabetes. Moreover, work requirements should be implemented in Medicaid to align with other social safety net programs and create opportunities for tiered support as job wages increase.
08 / PRIORITIZE PRICE TRANSPARENCY
The high cost of healthcare in the U.S. affects the health and financial well-being of millions of Americans, and uncertainty about costs can create real stress. Policies that remove uncertainty about the cost of medical care and increase competition enhance the ability of families to plan and pay for future healthcare expenses as they make comparisons across providers. Federal regulations currently require hospital and insurer price transparency. These policies should be made permanent in statute with meaningful penalties for non-compliance and receive priority enforcement by HHS and CMS. Transparency should also be required in prescription drug pricing for manufacturers, pharmacy benefit manufacturers, and insurers.
09 / IMPROVE ACCESS TO NEEDED MEDICINES
High prescription drug prices are hurting Americans and must be lowered—without increasing government control and sacrificing innovation. Generic medications are one way to reduce cost exposure for patients, and the FDA should prioritize their approval. Regulatory and legal hurdles for the manufacturing, marketing, and distribution of generic and biosimilar drugs should be addressed by aligning incentives. The FDA should also appropriately switch prescription-only medications to available over-thecounter drugs, and Congress should allow pharmacists to substitute biosimilars for biologics. There must also be a crack down on the anticompetitive practices used by pharmaceutical companies to delay and discourage cheaper generic competition, such as frivolous patents, litigation, and pay for delay agreements. Insurers should be allowed to negotiate "protected class" drugs and jointly negotiate for lower drug prices. Further, PBM practices, specifically spread pricing, must be transparent. Finally, policies should provide patients with greater control of their prescriptions by requiring pharmacies to transfer the prescription upon request.
10 / STOP FOREIGN FREE-RIDING OFF OF U.S. INNOVATION
It is well-known that Americans unfairly subsidize biopharmaceutical innovation for the world, with the U.S. paying significantly more for the same medications than other developed nations that have government-run health systems. A new U.S. trade policy should create economic disincentives for specific developed countries to pay less than market value for prescription drugs. Further, international bodies should be prohibited from dictating the use of American innovation and technology. America's public health and any related emergency declarations or measures and the accompanying requirements should be determined only by the U.S. and no other nation or international body.
WE NEED TO PUT PATIENTS AND DOCTORS BACK IN CHARGE OF HEALTHCARE IN AMERICA!