Center Vision
The American republic was founded as a government by, for, and of the people, to defend the people's rights — but sadly that aspiration at times seems like a distant dream. Policymakers empower unelected bureaucracies that rule huge swaths of American life. Legislative, judicial, and executive power has become concentrated within the regulatory agencies themselves. As a result, regulatory agencies effect massive shifts in policy that elected representatives never voted on. Various protections empower the career bureaucrats to pursue their own preferred policies with little regard to the views of elected officials. What began two-and-a-half centuries ago as man's greatest experiment in self-governance looks now like rule without consent of the governed. Meanwhile, the federal government ignores growing threats to American liberties like cancel culture, tech censorship, and state-sanctioned racial discrimination. The Center for American Freedom exists to defend American freedom from both government and non-governmental threats. It will conduct research and generate policies that cut the red tape of burdensome regulations, defend fundamental rights, and restore American governance as originally intended.
The Founders designed the Constitution to protect the people's rights and hold the government accountable. They believed that concentrated power was vulnerable to abuse, so they divided federal authority between executive, legislative, and judicial branches. They further required the executive and legislative branches to regularly stand for re-election, holding policymakers accountable to those they govern. And they strictly limited the federal government's authority, leaving most governing power to state and local government. The contemporary administrative state circumvents these constitutional protections. The federal government needs to return to these constitutional safeguards that protect Americans' liberties. It also needs to take vigorous action to defend the American people's rights from emerging non-governmental threats, such as cancel culture and tech censorship.
POLICY OVERVIEW
Holding the bureaucracy accountable
Preventing bureaucratic abuses
Cutting red tape
Reducing Crony Capitalism
Preventing discrimination based on immutable characteristics
Protecting freedom of speech from cancel culture and tech censorship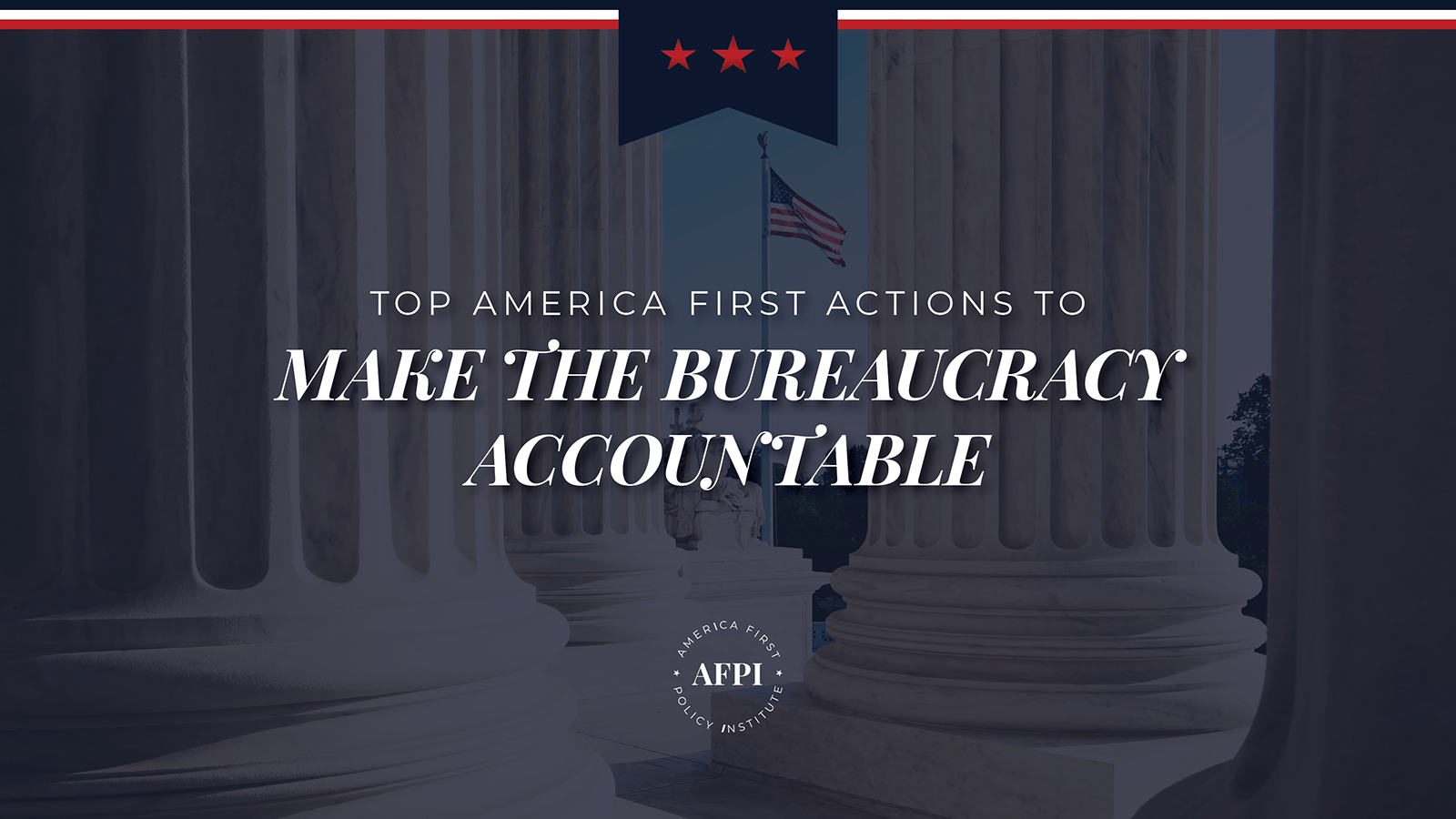 The Honorable David Bernhardt
Chair, Center For American Freedom
David Bernhardt grew up outside of a small western rural community, Rifle, Colorado, and serves as the Chair of the Center for American Freedom at AFPI. Bernhardt previously served as the 53rd Secretary of the Department of the Interior, where he furthered conservation stewardship, expanded opportunities for access to hunting and fishing on public lands, drove common-sense regulatory change, and enhanced our Nation's energy independence. Bernhardt also led the effort to enact the Great American Outdoors Act, which established the most consequential dedicated funding for maintaining critical facilities and infrastructure at our national parks, wildlife refuges, and recreational facilities in history. He also developed and implemented sweeping regulatory changes that were estimated to reduce regulatory burdens by more than $5 billion. Bernhardt is active in numerous charitable and business endeavors, practices administrative law, and enjoys the spectacular outdoors with his spouse, Gena Rae Bernhardt, their two teenagers, and two yellow Labrador Retrievers.
Jacob Sagert
Policy Analyst, Center for American Freedom
Jacob Sagert is from Dallas, Texas, and serves as a Policy Analyst in the Center for American Freedom at AFPI. Previously, Sagert served as the Director of Issues for Brian Maryott's congressional campaign in California's 49th District. He received a bachelor's degree in international political economy from the University of Texas at Dallas and an M.P.P degree from Pepperdine's School of Public Policy in Malibu, California. Jacob currently resides in Washington D.C., and enjoys traveling internationally, hiking, going to the beach, and spending time with friends and family.
"Progress should mean that we are always changing the world to fit the vision, instead we are always changing the vision."
G.K. Chesterton
James Sherk
Director, Center for American Freedom
James Sherk was born in Ontario, Canada, and immigrated with his family to Midland, Michigan while in middle school. He serves as AFPI's Director of the Center for American Freedom. Sherk previously served as Special Assistant to the President for Domestic Policy on the White House Domestic Policy Council under President Donald Trump. James served as the Administration's top civil service reform and labor policy advisor from 2017 to 2021. At the White House, he was the principal author of and/or policy lead for approximately two dozen executive orders and presidential memoranda. Sherk also served as a member of the President's Council on Improving Federal Civic Architecture. Prior to his White House service, Sherk was a Research Fellow at the Heritage Foundation, where he was a nationally recognized expert on the civil service and labor policy. Sherk received a Bachelor of Science in Mathematics and Economics from Hillsdale College and an Master of Arts in Economics from the University of Rochester. Sherk and his wife, Jill, live in Northern Virginia with three beloved children who teach their parents to ponder inscrutable questions like "how much drawing can go on the walls before we have to repaint them?"
"A dead thing can go with the stream, but only a living thing can go against it."
G.K. Chesterton