Center Vision
The America First Policy Institute's (AFPI) Center for Homeland Security & Immigration is devoted to protecting the American people, American interests, and the American way of life. Our "America First" approach requires an immigration system that prioritizes border security and the value of citizenship, a strong and persistent counter-terrorism effort, resiliency of our critical physical and digital infrastructure, and agility in the face of ever-shifting foreign threats and influence.
As our world becomes more complex, so do the threats we face. Terrorism remains a global reality, and America's ability to prevent attacks in the United States is only as strong as its weakest link at any given moment. America's enemies no longer need to physically come to our shores to hurt us in the digital age. Threats that strike at the heart of our infrastructure—and, therefore, our civilization—can be achieved with the touch of a button from anywhere in the world. In some cases, these threats are sponsored or shielded by foreign governments; in some cases, they are foreign governments. While these threats are omnipresent, courageous leadership at all levels of government and society is essential for success and security.
POLICY OVERVIEW
Strengthen America's border security and immigration policies
Support counterterrorism efforts
Create and maintain a strong physical and digital infrastructure
Defend against foreign influence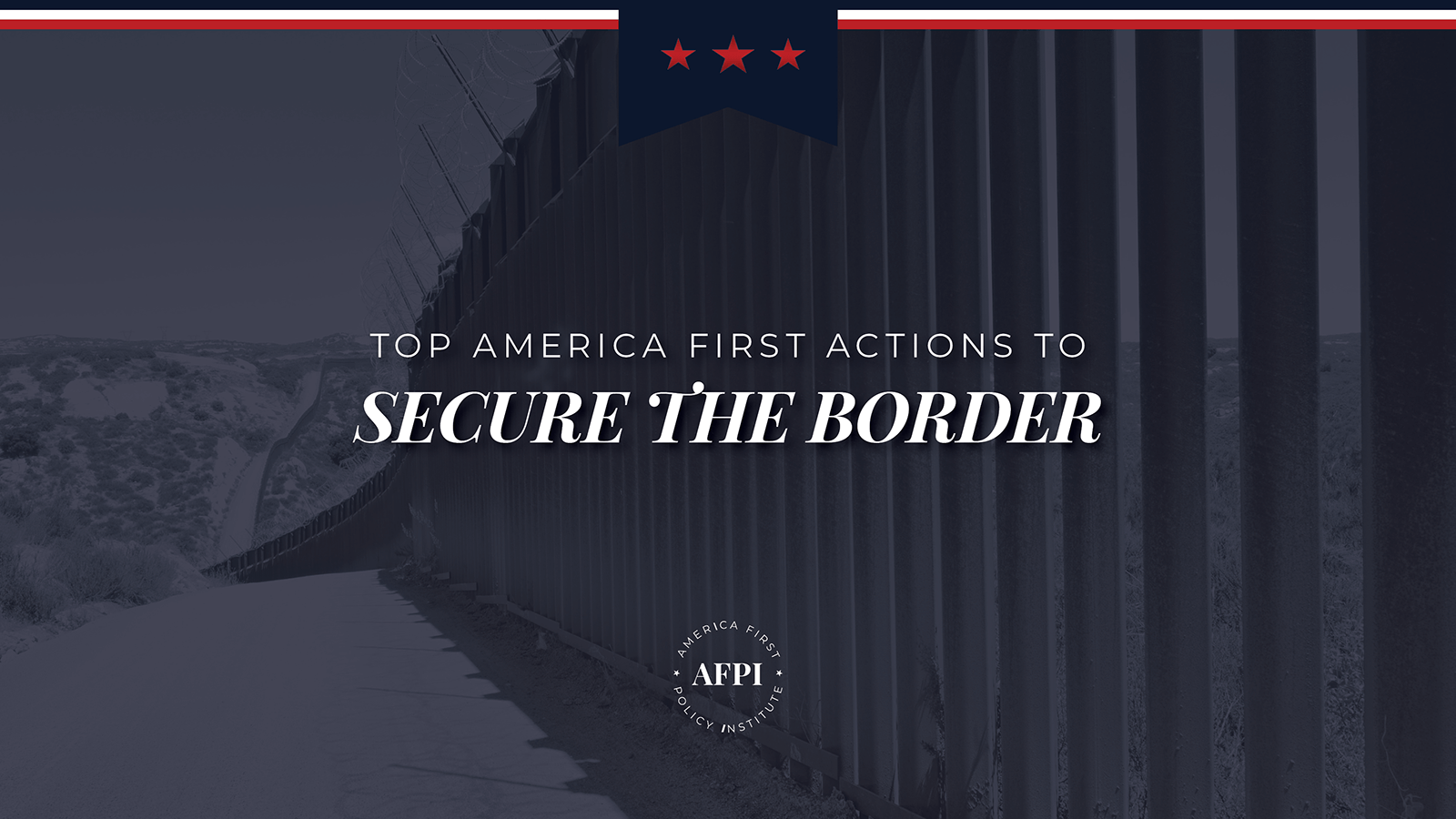 The Honorable Chad Wolf
Executive Director, Chief Strategy Officer & Chair, Center for Homeland Security & Immigration
Chad F. Wolf serves as AFPI's Executive Director, Chief Strategy Officer, and the Chair for the Center for Homeland Security & Immigration. In this role, Wolf is responsible for the day-to-day management and strategic direction of AFPI with a focus on setting policy goals and research priorities. Prior to joining AFPI, Wolf served as Acting Secretary of the U.S. Department of Homeland Security (DHS), the third-largest federal department in the U.S. Government. During his time at DHS, he successfully navigated numerous global and domestic challenges to the nation's security, including COVID-19, civil unrest, numerous border and immigration crises, historic natural disasters, and threats to global aviation security. Wolf is a former Visiting Fellow at the Heritage Foundation, and currently a Member of the Texas Public Policy Foundation Border Security Coalition. He also serves as President and Founder of Wolf Global Advisors. Wolf has written and speaks frequently on national security, border security, immigration, China, counterterrorism issues. Prior to his service at DHS, he spent over 10 years in the private sector helping clients manage risks and earlier in his career worked on Capitol Hill. He has received the U.S. Secretary of Transportation 9/11 Medal, the U.S. Secretary of Homeland Security Distinguished Service Medal, and the National Intelligence Distinguished Service Medal.
"The credit belongs to the man who is actually in the arena, whose face is marred by dust and sweat and blood ...."
Theodore Roosevelt
Scott Glabe
Senior Fellow, Center for Homeland Security & Immigration
Scott Glabe is from Columbia, Missouri, and serves as a Senior Fellow in the Center for Homeland Security and Immigration at AFPI. Previously, Glabe served as Acting Under Secretary for Policy at the Department of Homeland Security (DHS), where he led a 200-person team focused on issues including cybersecurity, counterterrorism, and economic security. Before DHS, Glabe was a Special Assistant to the President and Associate Counsel at the White House in the Trump Administration and worked for the U.S. House of Representatives in progressively senior legal and policy roles, including Staff Director of the Permanent Select Committee on Intelligence. He also practiced at two large law firms, clerked for a federal appellate judge, and served in the U.S. Navy Reserve. Glabe is a graduate of Yale Law School and Dartmouth College; he earned a master's degree in defense and strategic studies from Missouri State University. Outside of work, Glabe enjoys spending time with his wife and children.
"Peace-time plans are of no particular value, but peace-time planning is indispensable."
Dwight Eisenhower
Robert Law
Director, Center for Homeland Security and Immigration
Robert Law grew up in Northern Virginia but now calls Washington, D.C., home and serves as the Director of the Center for Homeland Security and Immigration at AFPI. From 2017 to 2021, he served in the Trump Administration as a senior policy advisor and chief of policy at U.S. Citizenship and Immigration Services within the Department of Homeland Security. Law has a decade of immigration law, regulation, and policy expertise and has held leadership positions at other immigration-focused think tanks. He holds a bachelor's degree from the University of Virginia and a Juris Doctor from The Catholic University of America, Columbus School of Law. When not working, Law and his wife, Torrey, are kept busy by our two daughters and Irish doodle puppy, though they try to find time to travel, enjoy the D.C. restaurant scene, and cheer on the Nationals and Capitals.
"The wise know their weakness too well to assume infallibility: and he who knows most, knows best how little he knows."
Thomas Jefferson
Sam Mims
Director of Data and Cybersecurity Policy Advisor
Sam Mims is from Niceville, Florida, and serves as the Director of Data and the Cybersecurity Policy Advisor at AFPI. She is currently completing her Master of Engineering in Cybersecurity degree at George Washington University where she also teaches cybersecurity courses. Sam previously served as the Data Director for President Donald J. Trump's re-election campaign and Governor Ron DeSantis' gubernatorial campaign. Sam also ran Operations for Governor DeSantis' inauguration before becoming a Policy Chief in his administration. She spent most of her life growing up on Eglin Air Force Base. Sam was a National Collegiate Athletic Association (NCAA) D1 student-athlete and NCAA Conference Champion at the University of North Florida, while majoring in political data and international studies and minoring in Spanish. She also studied at the University of Málaga in Málaga, Spain. One of the proudest moments of her life was getting to wear the Team USA jersey for 2 years in two different sports (Beach Volleyball, Volleyball). In her free time (and even in her not-so-free time), you can find Sam enjoying a nice cup of black coffee.
"You cannot succeed without believing in yourself, and that belief is completely under your control."
Karch Kiraly, Gold Medal Olympian & Women's National Team Head Coach
Alex Zemek
Senior Fellow, Center for Homeland Security & Immigration
Alex Zemek from McLean, Virginia, and serves as a Senior Fellow in the Center for Homeland Security & Immigration at AFPI. He is also the founder and president of The Gethsemane Group. Previously, Zemek served at the Department of Homeland Security (DHS) as Assistant Secretary (acting) for Counterterrorism and Threat Prevention, where he oversaw strategy and policy related to combating violent extremists, aviation security, international information sharing, and identity management. Before DHS, Zemek was served as Chief of Staff for the Department of Commerce, Bureau of Industry and Security. Additionally, during his two decades of federal service, he has served at multiple agencies in a range of disciplines, including as a State Department diplomat, Legislative Fellow with the Senate Committee on Homeland Security and Government Affairs, and an intelligence officer. As a senior executive in the private sector, Zemek led the strategy, policy, and congressional affairs disciplines for the non-profit National Defense Industrial Association while serving as Vice President. Prior to 9/11, he traded stocks on Wall Street, taught high school, and coached high school athletics. Zemek has degrees from Yale University and the National Defense University and conducted advanced studies with the Massachusetts Institute of Technology. Zemek lived in rural Kenyan village for a summer while training with professional distance runners. He enjoys coaching the sports teams of his three sons.
"The struggle of today, is not altogether for today – it is for a vast future also. With a reliance on Providence, all the more firm and earnest, let us proceed in the great task which events have devolved upon us."
Abraham Lincoln
KRISTEN ZICCARELLI
Policy Analyst, Center for Homeland Security and Immigration; Production Assistant
Kristen Ziccarelli grew up in Germany, Slovenia, Boston, Chicago, and Virginia, and serves as a Production Assistant and Policy Analyst in the Center for Homeland Security and Immigration at AFPI. She was previously a White House Intern with the Office of Intergovernmental Affairs during the Summer of 2020, where she helped coordinate between state and local leaders during the COVID-19 pandemic. Kristen also nurtured her passion for diplomacy working at the U.S. Embassy in Berlin, Germany for three summer terms. In 2021, she founded the media organization Respect Perspective to encourage people to see all sides of controversial issues. Kristen attended the University of Edinburgh in Scotland for her Master's in International Business and received Bachelor's degrees in Political Science and Finance at Christopher Newport University.
"We are all in the gutter but some of us are looking at the stars"
Oscar Wilde