Commentary
|
Center for American Prosperity
High Inflation Continues to Hurt American Families
This morning's inflation report and last week's jobs report are yet another reminder that President Biden's policies are failing the American people. Here are the key take-aways from these reports and President Biden's remarks yesterday:
(1) At 8.3% year over year, inflation remains stubbornly near 40-year record highs.
(2) Wages are not keeping up with prices; the average American has lost about $1,350 in purchasing power due to the inflation tax.
(3) The Biden Administration remains clueless at best, or is actively misleading at worst, about the role of its own reckless fiscal policy in the current inflationary surge—too much demand from government overspending and too little supply from labor shortages and supply chain disruptions exacerbated by the administration's anti-work and anti-energy policies.
According to the Bureau of Labor Statistics, the Consumer Price Index for all urban consumers (CPI-U) increased 8.3% over the last 12 months, while hourly earnings have grown just 5.5%. Meanwhile, producer prices increased 11.2% year-over-year, according to the data shown in figure 1, suggesting that inflation troubles may persist. American workers continue to fall further behind, and the president's only solution is to double down on big government socialism that generated these outcomes. These inflationary effects are particularly hurtful to lower-income Americans and seniors living on fixed incomes.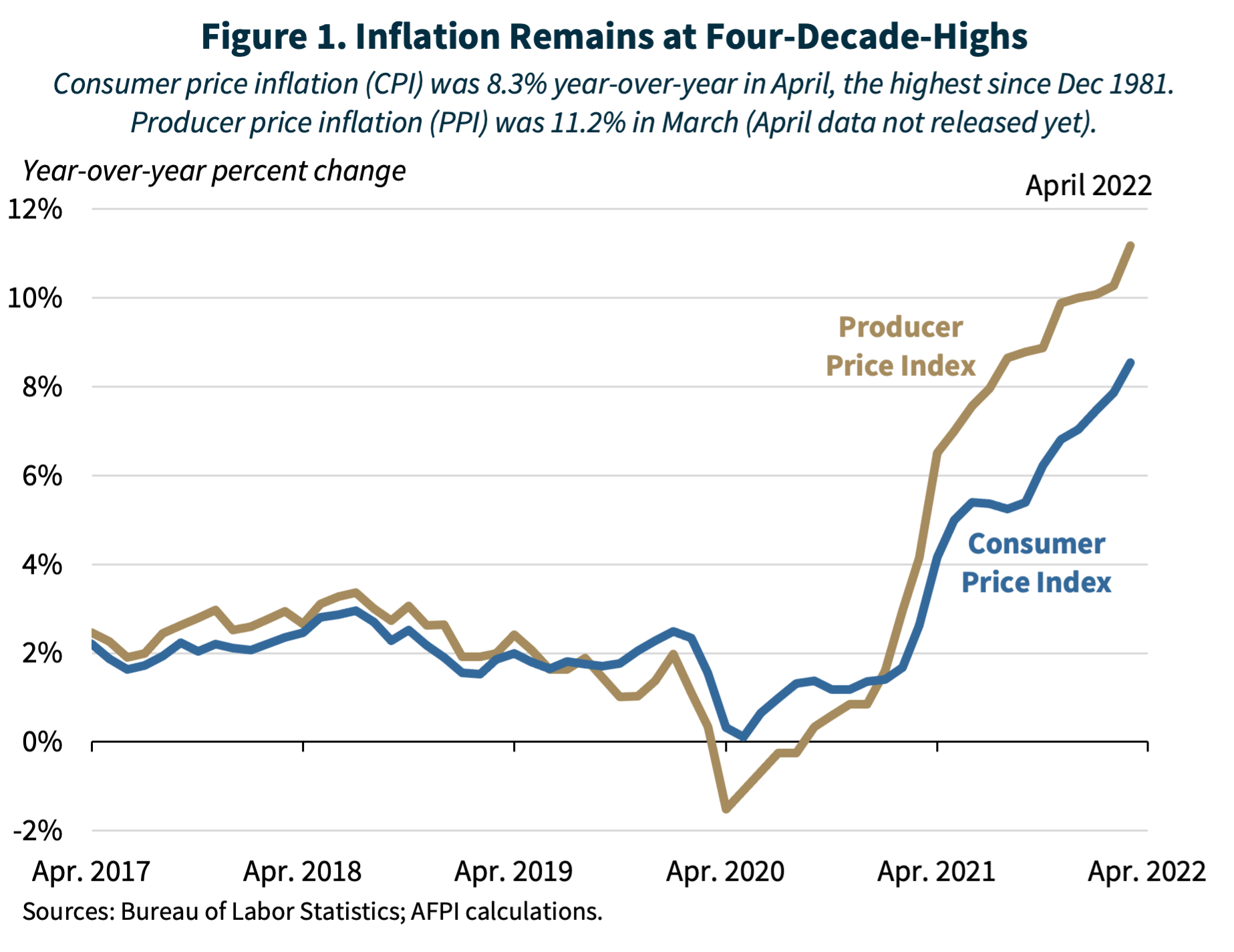 Food prices rose 0.9% in April and have risen 9.4% over the last year. While gas prices moderated in April, they have risen 43.6% in the last 12 months. The prices of new vehicles rose another 1.1% last month, resulting in price increases of 13.2% over the last year. Used car prices have been up 22.7% over the last 12 months. The cost of shelter rose 0.5% last month, totaling 5.1% for the last 12 months. Over the last 12 months, every category of goods and services is up. The medical care commodities category has seen the lowest increase at 2.1%, and medical care services have risen 3.5%. Nearly every other category has seen price increases in excess of 5%.
Wages and salaries have not kept up with these price increases, as seen in the consistent negative real wage growth in figure 2. Average hourly earnings from nonfarm payrolls rose just 10 cents in April, resulting in an increase of 5.5% for the last 12 months. In total, Americans have paid an inflation tax of nearly $1,350 in reduced purchasing power since this inflationary surge began last year. Employment is still 1.2 million workers below the levels observed prior to the pandemic. Despite the vaccines generated from Operation Warp Speed that began being administered 18 months ago, many Americans have still not returned to the workforce, and the economy is still seeing shortages. Such shortages have led to price increases, worsened by the excessive spending from the American Rescue Plan in 2021 and the Federal Reserve's accommodative monetary policy. Seemingly blind to the inevitable inflation that would result, the Federal Reserve's delayed response means they are behind in maintaining price stability. They are now raising interest rates at an accelerated pace that may very likely lead to recession.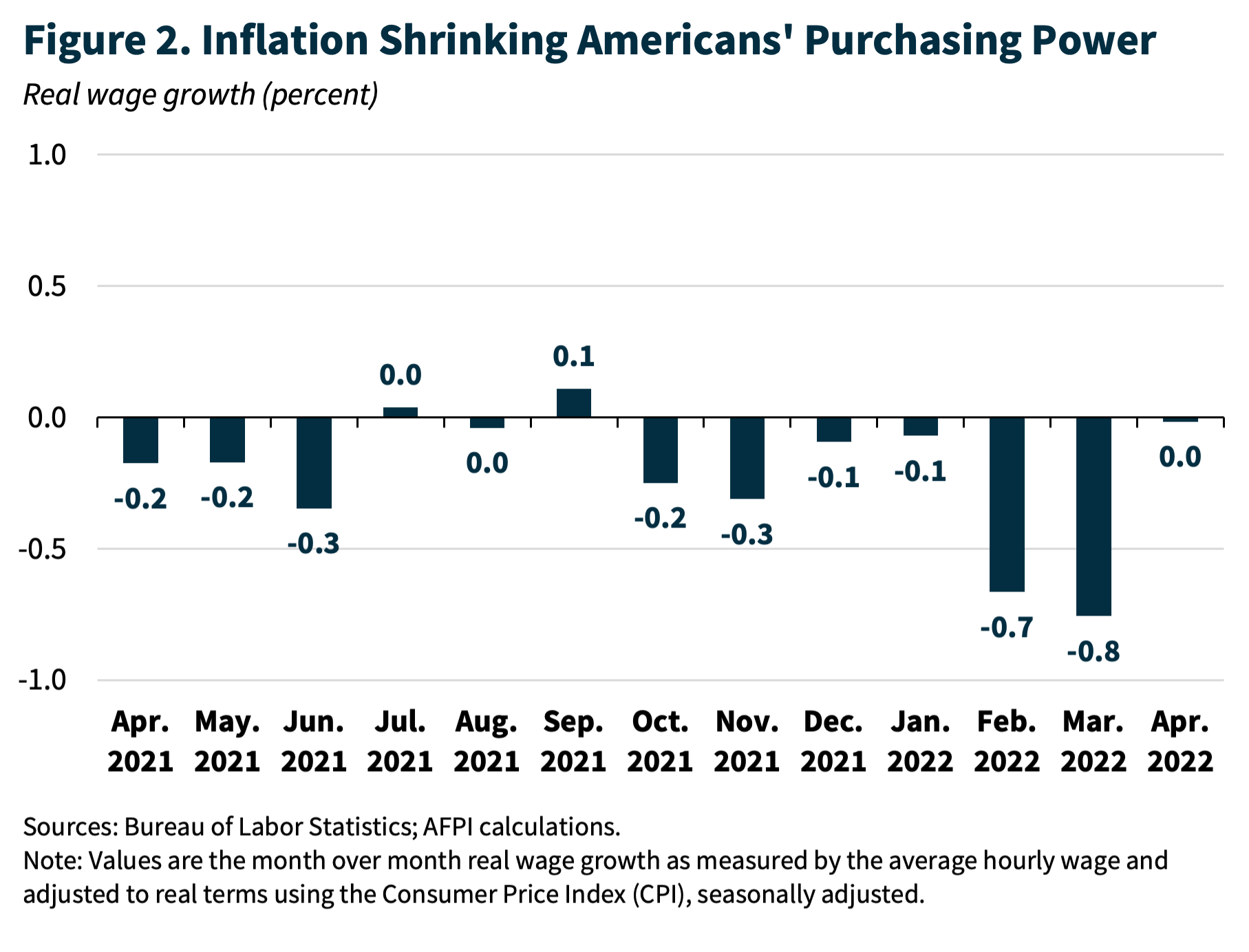 Yesterday, President Biden finally woke up to the inflation challenges confronting the American people. Unfortunately, all the president can offer are excuses—it's COVID, it's Putin, it's corporate profiteering, etc. The problem with these excuses is that the timing does not match the data. As discussed in my recent testimony to the Senate Budget Committee, "When the economy reopened, prices started rising with inflation from June 2020 to February 2021, averaging 32 basis points per month. The $1.9 trillion American Rescue Plan Act was signed into law in March of 2021. Since then (through February 2022), monthly inflation has doubled to 64 basis points per month." Inflation doubled following the enactment of the president's socialist spending plan a full 10 months after the economy started reopening; that was not from COVID. Putin's invasion of Ukraine occurred at the end of February 2022, but prices had already risen 7.9 percent in the twelve months ending in February 2022. As former Clinton Treasury Secretary Larry Summers said in March 2021, "I think this is the least responsible macroeconomic policy we've had in the last 40 years."
The other main contributor has been the Biden Administration's intentional abandonment of energy independence, which continues to raise prices while financing Putin's war. As this morning's report reminds us, gas prices are up 43.6% in the last 12 months. According to the Energy Information Administration, before the onset of the pandemic in February 2020, the United States was producing 12.8 million barrels of oil per day. In February 2022 (the most recent month for which data is available), domestic production is down to just 11.3 million barrels per day. Rather than encouraging more domestic supply, the Biden Administration has instead proposed $45 billion in higher taxes on the energy sector and increased the regulatory burden on energy producers.
Higher taxes and ever bigger socialist spending plans are not the solutions. We must focus on increasing the supply of domestically generated goods and services and encourage even more Americans to return to the workforce. Under President Trump, we saw the longest economic expansion on record, 50-year low unemployment rates, low inflation, and the lowest poverty rates on record. A return to an America First economic plan can again realize such shared prosperity.
Mike Faulkender serves as a Visiting Fellow for the America First Policy Institute (AFPI).