The Biden Administration's Scary Education Priorities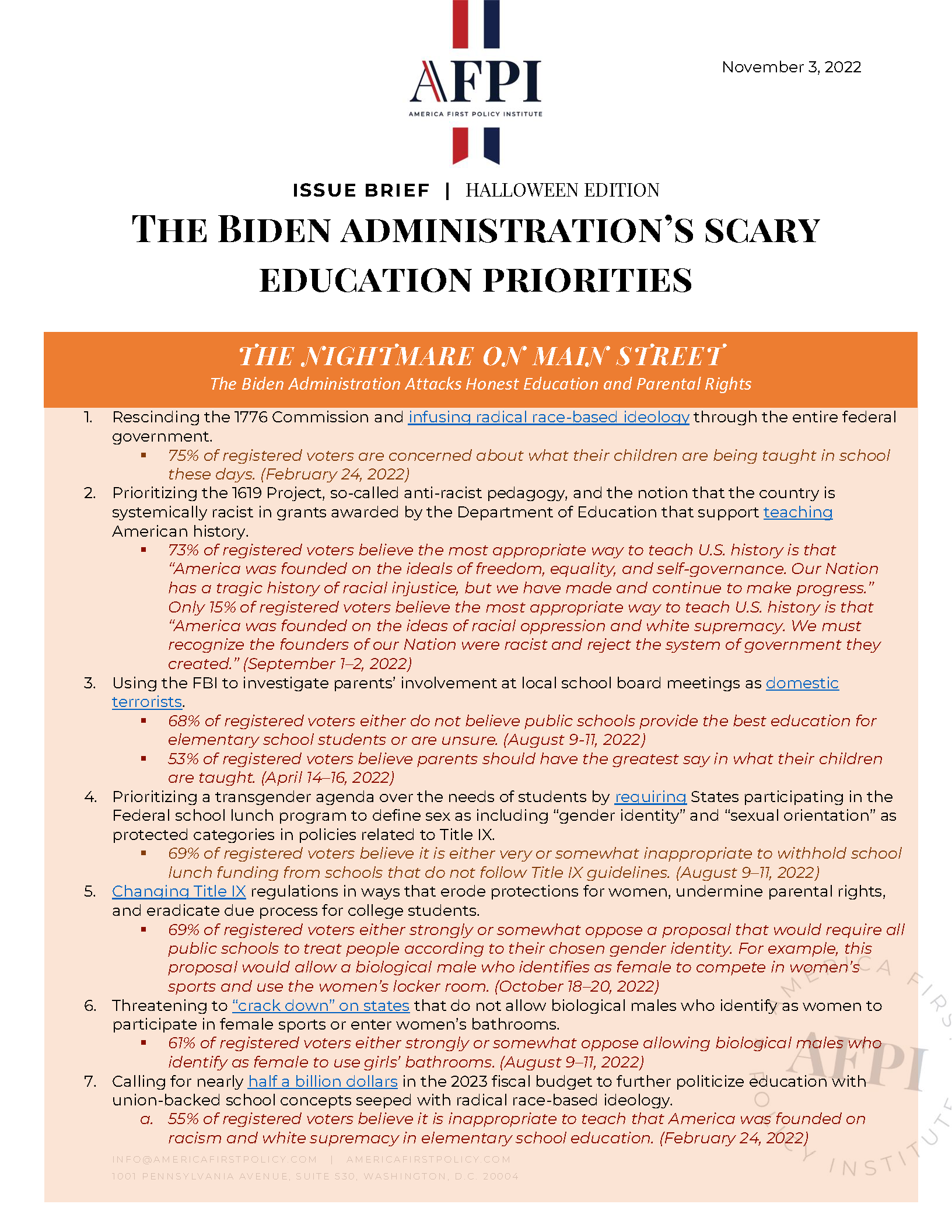 THE NIGHTMARE ON MAIN STREET
The Biden Administration Attacks Honest Education and Parental Rights ​​​​​​
Threatening to

"crack down" on states

that do not allow biological males who identify as women to participate in female sports or enter women's bathrooms.

61% of registered voters either strongly or somewhat oppose allowing biological males who identify as female to use girls' bathrooms. (August 9–11, 2022)
Replacing The Biden Administration Nightmarish Policies with Policies that Give Parents More Control of Their Childs Education
Options for State Leaders:
Remove the requirement to discuss current events and not allow social or political advocacy as a course requirement, as well as bar both from promoting racist or bigoted concepts and teaching a defamatory history of America's founding.

Require public schools to publish financial expenditures, school board minutes, class syllabi, and other academic documents on the school's website in a timely manner.

Require school districts to publish all budgets and itemized expenditures on the school district's website.

Shift school board election dates to the same day as the general election, ensuring that all voters are aware of the school board election.

Mandate Western Civilization, U.S. history, civics, economics, and state history to be taught in public schools.

Ensure honest teaching of American history.

Prevent race, sex, or other group identities from determining whether certain ideas, persons, or events are excluded or included in the curriculum.

Prohibit outside vendors for school districts from promoting any racist or bigoted concepts through teaching or teacher training.

Require all existing academic standards and any upcoming revisions to be submitted to the state legislature and governor for review.

Prevent schools from rewarding or punishing teachers based on their commitment to a preferred set of political or philosophical ideas.