Commentary
|
Center for Election Integrity
Center for Election Integrity Launches Color-coded Interactive Map Comparing States' Key Election Laws
The Center for Election Integrity (CEI) at the America First Policy Institute is dedicated to one simple rule: Make it easy to vote but hard to cheat. State laws should protect and enforce the concept of one American citizen, registered to vote, casting one ballot, counted only one time.
Polls show more than 80% of Americans support several key measures that would help accomplish that goal – like photo identification, ensuring the accuracy of voter rolls, and efforts to stop ballot harvesting, whereby unsupervised third parties distribute and collect ballots.
To help clarify where states stand with their voter protection laws, CEI has developed an interactive, color-coded map that allows anyone to see where their state election laws stack up in comparison with other states.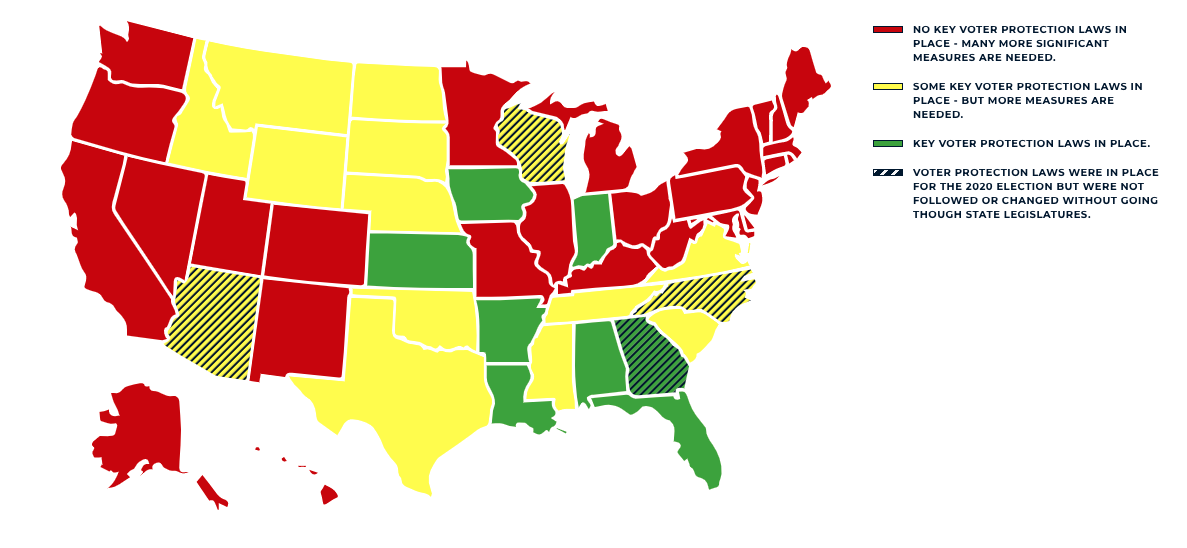 The methodology is simple: rate states across three key areas of voter protection clearly acknowledged to make it harder to cheat – photo ID requirements, strong laws against ballot harvesting, and ballots returned to election officials by Election Day (an obvious legitimate exception would include military service). States receive either a red, yellow, or green designation depending on the robustness of their election integrity measures across these three areas. As a tiebreaker for states on the margin between colors, we reviewed whether the state has banned private money given to local governments that was used unfairly, unequally, and politically on voter turnout in certain areas, otherwise known as Zuckerbucks.
First and foremost, we heavily weighted whether a state requires voters to presents valid government-issued photo ID when voting. An overwhelming 85% of Americans support photo ID, because proving you are who you say you are to cast a ballot is fundamental to fair and honest elections. Without that requirement, a state could not be placed in the highest tier.
Another important benchmark is for a state to ensure ballots are returned to election officials by Election Day – a measure that is supported by 82% of Americans. Citizens inherently understand it is not election week, or election month. It is Election Day. States that allow ballots to be accepted and counted weeks after the election is over is problematic and should be addressed. Uncertainty on Election Day has long been a problem and erodes Americans' trust in elections. Obviously, there are exceptions for people like our military personnel stationed around the world.
Airtight chain of custody for ballots from the time they are cast to when they are counted is also paramount for the faith, trust, and confidence in election outcomes. States need to end the often-unmonitored practice of ballot harvesting. Whether related to the voter or not, a person being able to carry multiple ballots for other people is a practice that invites cheating, fraud, and abuse. Putting strong guardrails on who, and how many ballots someone can carry, will make it hard to cheat.
For the first time in 2020, we saw organizations inject millions of dollars into targeted cities in battleground states, with the stated purpose of helping pay for COVID protections. But we now know that money was used to sway election outcomes by targeting voter turnout only in selective communities and not others. These dollars have become known as Zuckerbucks and should be outlawed. States that have laws on the books banning Zuckerbucks were sometimes given a higher ranking.
If your state is green, that means key laws like photo ID, cleaning voter rolls regularly, and/or taking measures to prevent illegal ballot harvesting and banning Zuckerbucks are in place. Yellow states have some key laws in place but there are areas for improvement – for example, laws are inadequate regarding people who show up to the polls without a photo ID, or no restrictions on absentee ballots someone can carry for another voter. A state that is colored red is deemed so because it has practically no key guardrails on these key provisions to protect against cheating.
There were also some significant nuances we deemed important to denote on the map.
States like, Arizona, Georgia, North Carolina, and Wisconsin fall into a unique category of locations where there were some laws on the books, but these laws were not followed in the last election. For example, Arizona saw County officials who deleted the entire activity log in its Election Management System which is against the law. In Wisconsin, the Elections Commission gave guidance to local municipal clerks to allow third parties to return absentee ballots, which is contrary to law. North Carolina had an issue where it abruptly ignored the law by allowing voters to go back and fix their ballot with missing information – resulting in two members of the State Board of Elections resigning in protest. Georgia had laws on the books, like signature matching, but political lawsuit concerns resulted in counties refusing to enforce the full signature matching law. Those states have black lines through them to indicate the important nuance that the state has at least some good laws on the books but did not follow them.
CEI's goal with this interactive map is to highlight key voter protection measures supported by an overwhelming majority of Americans, show which states currently have them, which states need improvement, and to identify places where there is simply the lack of will and interest to protect the concept of one person, one vote.
With tools like this, the American people can be better-informed about state election laws and can help make their state one where it is easy to vote and hard to cheat.
**Not indicated on the map, but worth noting, some states like Michigan, Pennsylvania, North Carolina, and Wisconsin have state legislatures which have passed laws to make it easy to vote and hard to cheat. Their Governors, however, have stood in the way of that reform, vetoing legislation that would improve the integrity of our elections.
**A state's color-coded designation is subject to change for any state that passes into law, or undermines, key voter protection measures.