Research
|
Center for Homeland Security and Immigration
In His Own Words: Mexican President Defends the Drug Cartels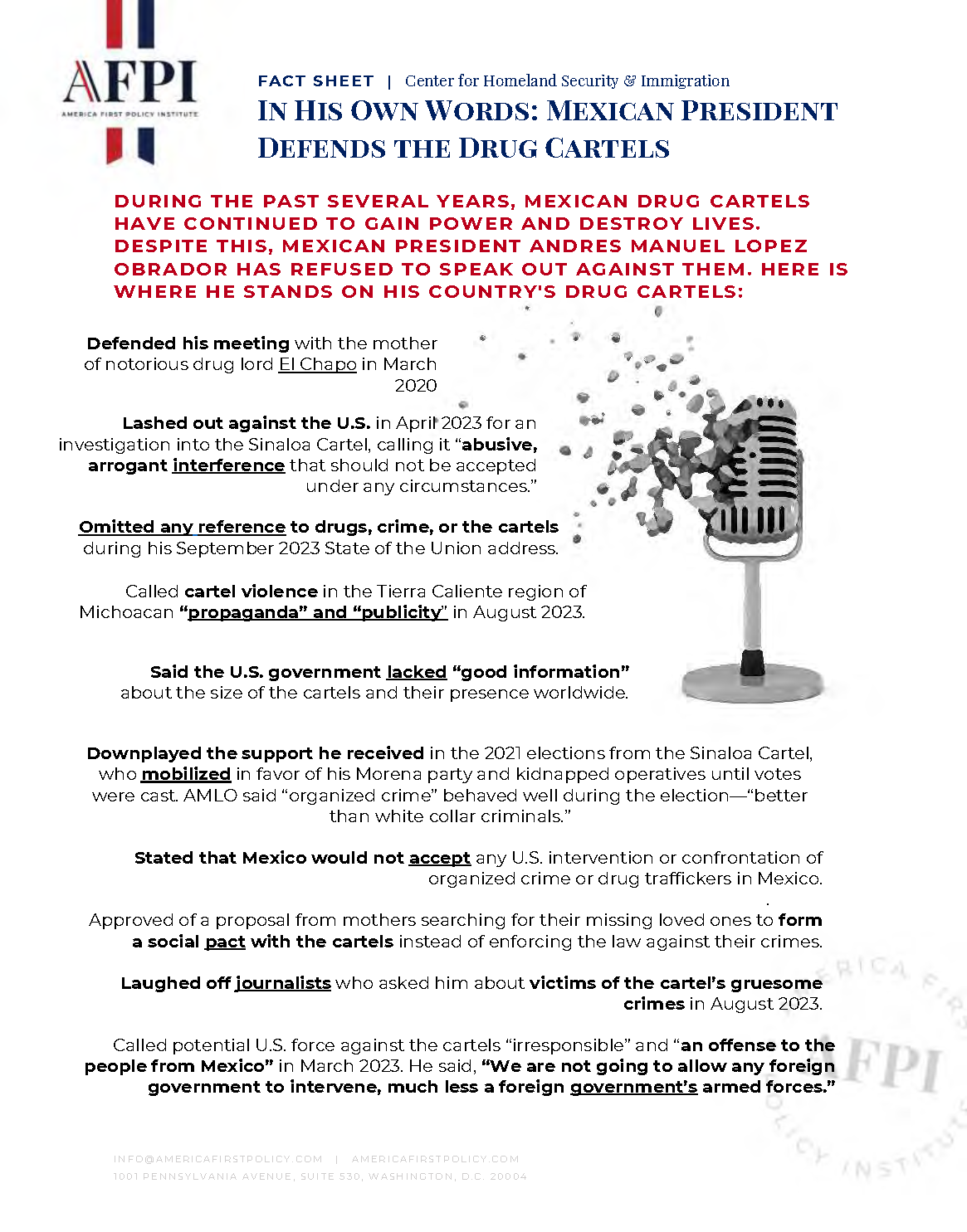 During the past several years, Mexican drug cartels have continued to gain power and destroy lives. Despite THIS, Mexican President Andres Manuel LopeZ Obrador has refused to speak out against them. Here is where he stands on his country's drug cartels:
Defended his meeting with the mother of notorious drug lord El Chapo in March 2020
Lashed out against the U.S. in April 2023 for an investigation into the Sinaloa Cartel, calling it "abusive, arrogant interference that should not be accepted under any circumstances."
Omitted any reference to drugs, crime, or the cartels during his September 2023 State of the Union address.
Called cartel violence in the Tierra Caliente region of Michoacan "propaganda" and "publicity" in August 2023.
Said the U.S. government lacked "good information"
about the size of the cartels and their presence worldwide.
Downplayed the support he received in the 2021 elections from the Sinaloa Cartel, who mobilized in favor of his Morena party and kidnapped operatives until votes were cast. AMLO said "organized crime" behaved well during the election—"better than white collar criminals."
Stated that Mexico would not accept any U.S. intervention or confrontation of organized crime or drug traffickers in Mexico.
Approved of a proposal from mothers searching for their missing loved ones to form a social pact with the cartels instead of enforcing the law against their crimes.
Laughed off journalists who asked him about victims of the cartel's gruesome crimes in August 2023
Called potential U.S. force against the cartels "irresponsible" and "an offense to the people from Mexico" in March 2023. He said, "We are not going to allow any foreign government to intervene, much less a foreign government's armed forces."