Policy
|
Center for American Trade
Why Labor Productivity Growth Matters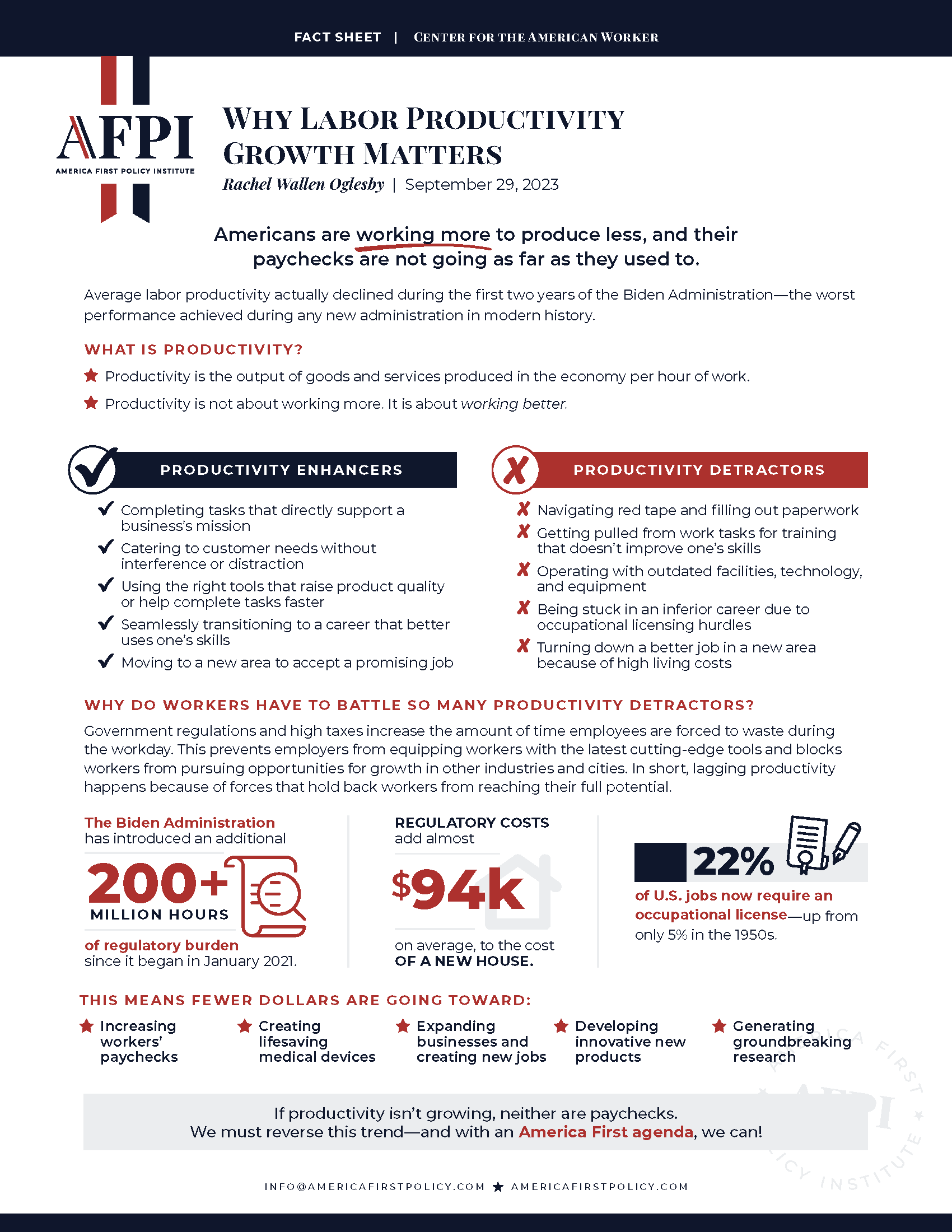 Americans are working more to produce less, and their paychecks are not going as far as they used to.
Average labor productivity actually declined during the first two years of the Biden Administration—the worst performance achieved during any new administration in modern history.
WHAT IS PRODUCTIVITY?
Productivity is the output of goods and services produced in the economy per hour of work.
Productivity is not about working more. It is about working better.
PRODUCTIVITY ENHANCERS
Completing tasks that directly support a business's mission
Catering to customer needs without interference or distraction
Using the right tools that raise product quality or help complete tasks faster
Seamlessly transitioning to a career that better uses one's skills
Moving to a new area to accept a promising job
PRODUCTIVITY DETRACTORS
Navigating red tape and filling out paperwork
Getting pulled from work tasks for training that doesn't improve one's skills
Operating with outdated facilities, technology, and equipment
Being stuck in an inferior career due to occupational licensing hurdles
Turning down a better job in a new area because of high living costs
WHY DO WORKERS HAVE TO BATTLE SO MANY PRODUCTIVITY DETRACTORS?
Government regulations and high taxes increase the amount of time employees are forced to waste during the workday. This prevents employers from equipping workers with the latest cutting-edge tools and blocks workers from pursuing opportunities for growth in other industries and cities. In short, lagging productivity happens because of forces that hold back workers from reaching their full potential.
The Biden Administration has introduced an additional 200+ Millino hours of regulatory burden since January 2021.
Regulatory costs add almost $94k on average, to the cost of a new house.
22% of U.S. jobs now require an occupational license-up from only 5% in the 1950s.
THIS MEANS FEWER DOLLARS ARE GOING TOWARD:
Increasing workers' paychecks
Creating lifesaving medical devices
Expanding businesses and creating new jobs
Developing innovative new products
Generating groundbreaking research
If productivity isn't growing, neither are paychecks. We must reverse this trend—and with an America First agenda, we can!