News
|
China Policy Initiative
NEWS RELEASE: AFPI Calls for Congressional Action to Protect American Farmland from China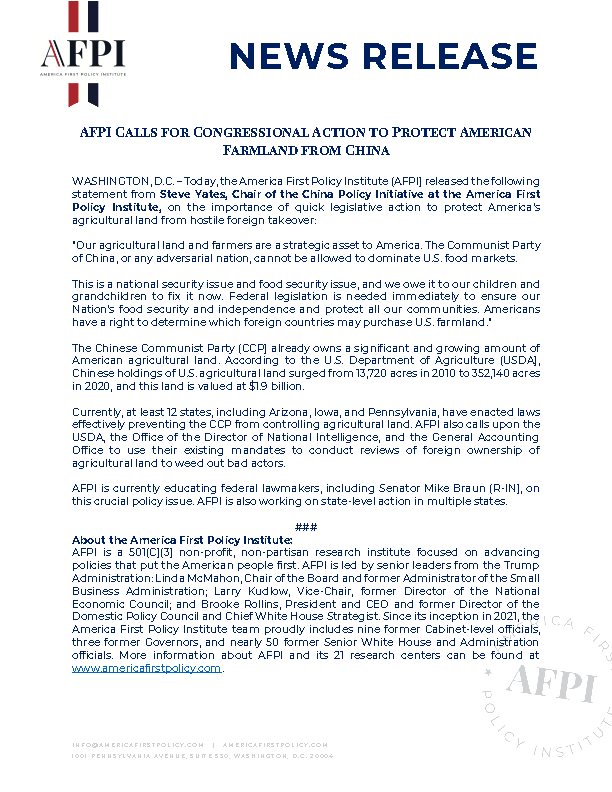 WASHINGTON, D.C. – Today, the America First Policy Institute (AFPI) released the following statement from Steve Yates, Chair of the China Policy Initiative at the America First Policy Institute, on the importance of quick legislative action to protect America's agricultural land from hostile foreign takeover:
"Our agricultural land and farmers are a strategic asset to America. The Communist Party of China, or any adversarial nation, cannot be allowed to dominate U.S. food markets.
This is a national security issue and food security issue, and we owe it to our children and grandchildren to fix it now. Federal legislation is needed immediately to ensure our Nation's food security and independence and protect all our communities. Americans have a right to determine which foreign countries may purchase U.S. farmland."
The Chinese Communist Party (CCP) already owns a significant and growing amount of American agricultural land. According to the U.S. Department of Agriculture (USDA), Chinese holdings of U.S. agricultural land surged from 13,720 acres in 2010 to 352,140 acres in 2020, and this land is valued at $1.9 billion.
Currently, at least 12 states, including Arizona, Iowa, and Pennsylvania, have enacted laws effectively preventing the CCP from controlling agricultural land. AFPI also calls upon the USDA, the Office of the Director of National Intelligence, and the General Accounting Office to use their existing mandates to conduct reviews of foreign ownership of agricultural land to weed out bad actors.
AFPI is currently educating federal lawmakers, including Senator Mike Braun (R-IN), on this crucial policy issue. AFPI is also working on state-level action in multiple states.
###
About the America First Policy Institute:
AFPI is a 501(C)(3) non-profit, non-partisan research institute focused on advancing policies that put the American people first. AFPI is led by senior leaders from the Trump Administration: Linda McMahon, Chair of the Board and former Administrator of the Small Business Administration; Larry Kudlow, Vice-Chair, former Director of the National Economic Council; and Brooke Rollins, President and CEO and former Director of the Domestic Policy Council and Chief White House Strategist. Since its inception in 2021, the America First Policy Institute team proudly includes nine former Cabinet-level officials, three former Governors, and nearly 50 former Senior White House and Administration officials. More information about AFPI and its 21 research centers can be found at www.americafirstpolicy.com.