Policy
|
Center for American Security
NEWS RELEASE: Conservatives Demand Strengthening the NDAA to Confront Communist China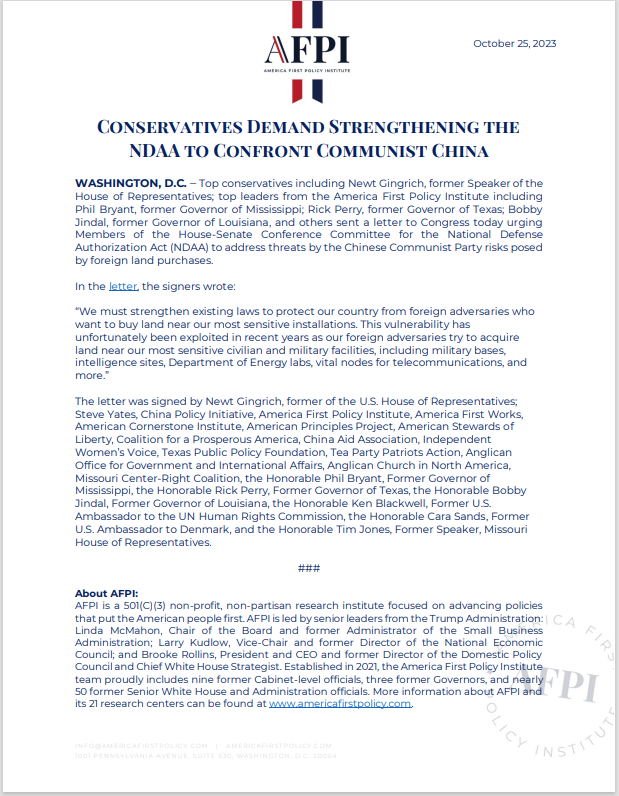 WASHINGTON, D.C. – Top conservatives including Newt Gingrich, former Speaker of the House of Representatives; top leaders from the America First Policy Institute including Phil Bryant, former Governor of Mississippi; Rick Perry, former Governor of Texas; Bobby Jindal, former Governor of Louisiana, and others led a letter to Congress today urging Members of the House-Senate Conference Committee for the National Defense Authorization Act (NDAA) to address threats by the Chinese Communist Party risks posed by foreign land purchases.
In the letter, the signers wrote:
"We must strengthen existing laws to protect our country from foreign adversaries who want to buy land near our most sensitive installations. This vulnerability has unfortunately been exploited in recent years as our foreign adversaries try to acquire land near our most sensitive civilian and military facilities, including military bases, intelligence sites, Department of Energy labs, vital nodes for telecommunications, and more."
The letter was signed by Newt Gingrich, former of the U.S. House of Representatives; Steve Yates, China Policy Initiative, America First Policy Institute, America First Works, American Cornerstone Institute, American Principles Project, American Stewards of Liberty, Coalition for a Prosperous America, China Aid Association, Independent Women's Voice, Texas Public Policy Foundation, Tea Party Patriots Action, Anglican Office for Government and International Affairs, Anglican Church in North America, Missouri Center-Right Coalition, the Honorable Phil Bryant, Former Governor of Mississippi, the Honorable Rick Perry, Former Governor of Texas, the Honorable Bobby Jindal, Former Governor of Louisiana, the Honorable Ken Blackwell, Former U.S. Ambassador to the UN Human Rights Commission, the Honorable Cara Sands, Former U.S. Ambassador to Denmark, and the Honorable Tim Jones, Former Speaker, Missouri House of Representatives.
###