Commentary
|
China Policy Initiative
TESTIMONY: Securing Mississippi's Land from Our Adversaries Is Not a Partisan Issue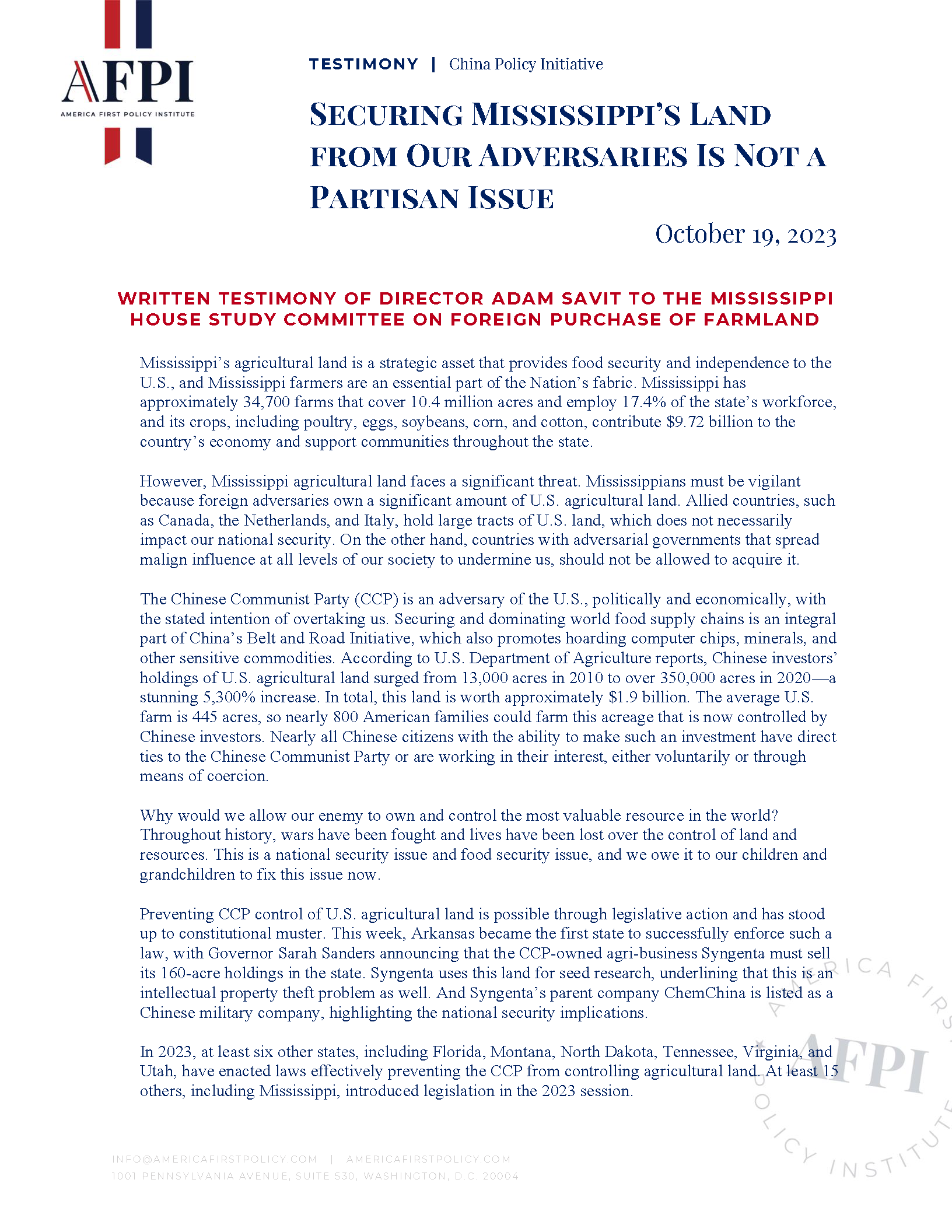 Written testimony of director Adam savit to the mississippi house Study Committee on Foreign Purchase of Farmland
Mississippi's agricultural land is a strategic asset that provides food security and independence to the U.S., and Mississippi farmers are an essential part of the Nation's fabric. Mississippi has approximately 34,700 farms that cover 10.4 million acres and employ 17.4% of the state's workforce, and its crops, including poultry, eggs, soybeans, corn, and cotton, contribute $9.72 billion to the country's economy and support communities throughout the state.
However, Mississippi agricultural land faces a significant threat. Mississippians must be vigilant because foreign adversaries own a significant amount of U.S. agricultural land. Allied countries, such as Canada, the Netherlands, and Italy, hold large tracts of U.S. land, which does not necessarily impact our national security. On the other hand, countries with adversarial governments that spread malign influence at all levels of our society to undermine us, should not be allowed to acquire it.
The Chinese Communist Party (CCP) is an adversary of the U.S., politically and economically, with the stated intention of overtaking us. Securing and dominating world food supply chains is an integral part of China's Belt and Road Initiative, which also promotes hoarding computer chips, minerals, and other sensitive commodities. According to U.S. Department of Agriculture reports, Chinese investors' holdings of U.S. agricultural land surged from 13,000 acres in 2010 to over 350,000 acres in 2020—a stunning 5,300% increase. In total, this land is worth approximately $1.9 billion. The average U.S. farm is 445 acres, so nearly 800 American families could farm this acreage that is now controlled by Chinese investors. Nearly all Chinese citizens with the ability to make such an investment have direct ties to the Chinese Communist Party or are working in their interest, either voluntarily or through means of coercion.
Why would we allow our enemy to own and control the most valuable resource in the world? Throughout history, wars have been fought and lives have been lost over the control of land and resources. This is a national security issue and food security issue, and we owe it to our children and grandchildren to fix this issue now.
Preventing CCP control of U.S. agricultural land is possible through legislative action and has stood up to constitutional muster. This week, Arkansas became the first state to successfully enforce such a law, with Governor Sarah Sanders announcing that the CCP-owned agri-business Syngenta must sell its 160-acre holdings in the state. Syngenta uses this land for seed research, underlining that this is an intellectual property theft problem as well. And Syngenta's parent company ChemChina is listed as a Chinese military company, highlighting the national security implications.
In 2023, at least six other states, including Florida, Montana, North Dakota, Tennessee, Virginia, and Utah, have enacted laws effectively preventing the CCP from controlling agricultural land. At least 15 others, including Mississippi, introduced legislation in the 2023 session.
We are not required to allow any foreign interest to control our agricultural land, especially those with proven malign intent. The CCP poses a unique threat to our civil society, including our precious land resources and food supply. Furthermore, American citizens are barred from owning land in China. This glaring lack of reciprocity alone is reason to block their access until we are accorded an equivalent privilege in their country.
The best way to secure our Nation is through economic prosperity. Therefore, we must fortify our supply chains and ensure national self-reliance to marginalize the CCP and its strategies to subvert us. Mississippi should lead the way in this mission by banning the CCP and its subsidiaries from controlling the agricultural land rightfully belonging to their citizens.