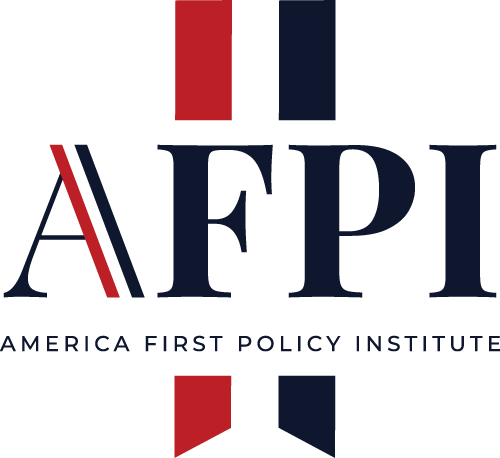 Center for American Freedom
Making the Utah Career Service At-Will Would Improve State Government
September 13, 2022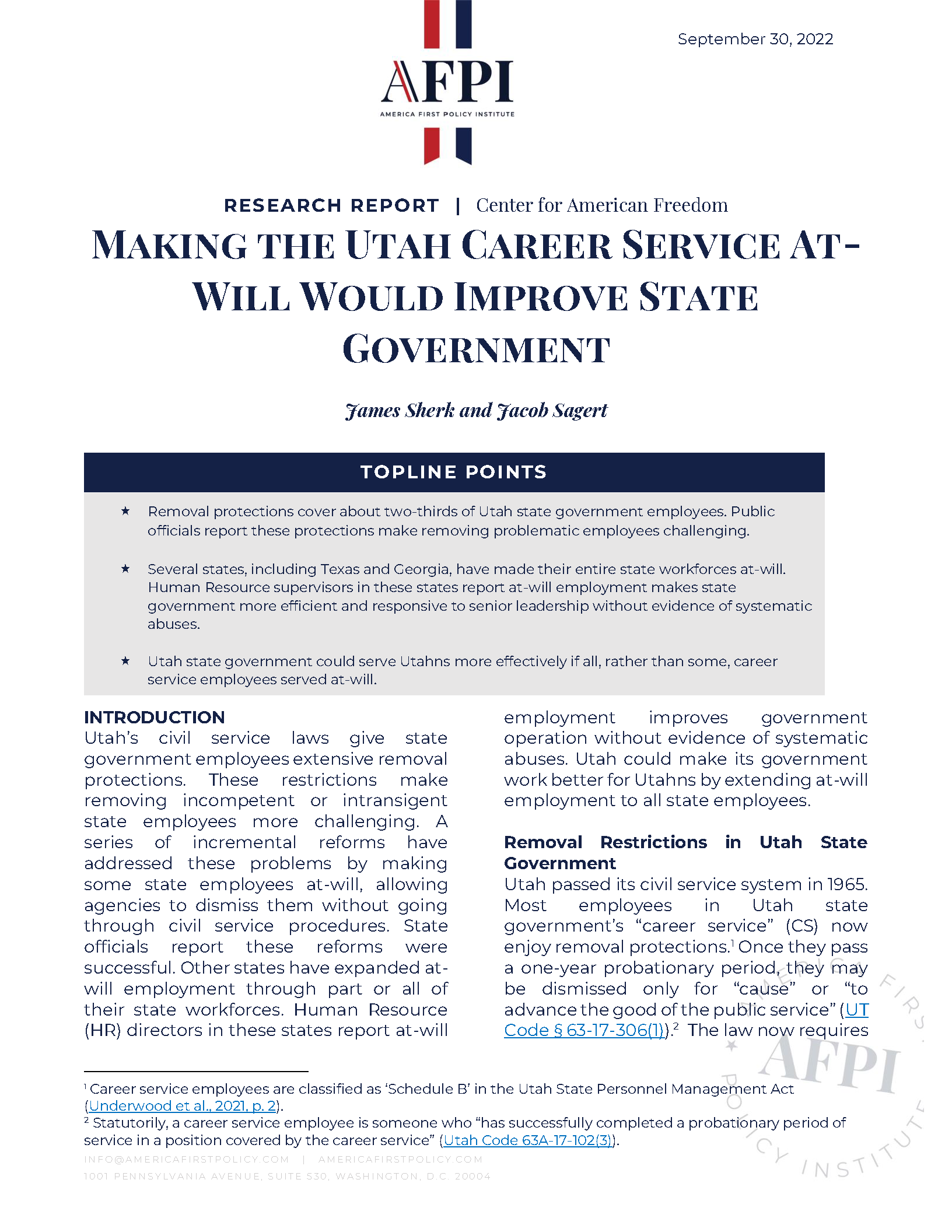 Download
Full Report
TOPLINE POINTS
Removal protections cover about two-thirds of Utah state government employees. Public officials report these protections make removing problematic employees challenging.
Several states, including Texas and Georgia, have made their entire state workforces at-will. Human Resource supervisors in these states report at-will employment makes state government more efficient and responsive to senior leadership without evidence of systematic abuses.
Utah state government could serve Utahns more effectively if all, rather than some, career service employees served at-will.
INTRODUCTION
Utah's civil service laws give state government employees extensive removal protections. These restrictions make removing incompetent or intransigent state employees more challenging. A series of incremental reforms have addressed these problems by making some state employees at-will, allowing agencies to dismiss them without going through civil service procedures. State officials report these reforms were successful. Other states have expanded at-will employment through part or all of their state workforces. Human Resource (HR) directors in these states report at-will employment improves government operation without evidence of systematic abuses. Utah could make its government work better for Utahns by extending at-will employment to all state employees.
Removal Restrictions in Utah State Government
Utah passed its civil service system in 1965. Most employees in Utah state government's "career service" (CS) now enjoy removal protections.[1] Once they pass a one-year probationary period, they may be dismissed only for "cause" or "to advance the good of the public service" (UT Code § 63-17-306(1)).[2] The law now requires agencies to spend considerable time and effort proving good cause exists.
Tenured CS employees can appeal dismissals (UT Code § 67-19a-301(3)).[3] To dismiss a CS employee, their agency must give them a written notice detailing the specific reasons for their termination. The employee has the right to reply within five working days, including requesting a preliminary meeting to counter the action (Utah Admin. Code R 477-11-2). If the agency dismisses the employee, they can appeal by submitting a written grievance first to an immediate supervisor, then to the agency or division director, and then to the department head. Utah law provides for over two months for these internal appeals (UT Code § 67-19a-402).[4] If none of these officials overturn the dismissal, the employee can then appeal to the Career Service Review Office (CSRO) (UT Code § 67-19a-402(4)).[5] [6]
The CSRO administrator will then appoint a hearing officer who adjudicates the grievance after a hearing. The agency bears the burden of proof and must show by "substantial evidence" the employee merited dismissal. The CSRO can order the employee reinstated with benefits and back wages (UT Code § 67-19a-406).[7] The CSRO takes an average of nearly six months to issue decisions (Underwood et al., 2021, p. 12).[8] If the CSRO rules against the employee, they can appeal directly to the Utah Court of Appeals (UT Code § 67-19a-406(6)). If an employee uses all their appeals rights, the dismissal grievance process thus takes approximately eight months, not counting time spent in any judicial appeals.
Removal Restrictions Hurt Government
These restrictions make removing poorly performing or intransigent employees more difficult. Researchers at the University of Utah interviewed state managers, HR officials, political appointees, and elected officials about the state civil service. They found widespread frustration with the removal process. Most believe it is too lengthy and difficult for managers to use effectively and comes with unreasonably high costs. They reported most Utah managers would rather reassign or transfer poor performers than attempt to navigate the dismissal process (Green et al., 2008, p. 544).
Political officials also reported that civil service employees were not responsive enough to directions. Many reported being frustrated with civil service employees actively resisting their agendas (Green et al., 2008, p. 542). Another study found state work units with greater job security had lower organizational performance than those with less job security (Hijal-Moghrabi et al., 2015, p. 1363).
Incremental Reforms Made Some Employees At-Will
State leaders have long recognized these problems. In response, Utah has made an increasing portion of its state workforce at-will. By the early 1990s, many administrative positions had been made at-will. Under the Leavitt Administration (1993-2003), division directors and wardens also became at-will positions, as did all positions in the Department of Environmental Quality (Green et al., 2008, p. 536).
In 2006, the Utah legislature exempted the newly-formed Department of Technology Services (DTS) from civil service rules and made all newly created DTS positions at will (H.B. 109, 2005). This ultimately made about 900 positions at-will and was the largest systematic change of employment status in Utah's history (Green et al., 2008, p. 536; Isman et al., 2020, p. 41). Incumbent employees were allowed to keep their employment protections but were offered a pay increase in exchange for relinquishing them. Ninety-three percent of DTS employees preferred at-will employment and higher pay (Underwood & Pulsipher, 2010, p. 13).[9]
In 2010, the Utah legislature passed H.B. 140 to streamline the grievance process. The bill removed several steps from the grievance process and allowed more grievances to be solved at the department level (Underwood et al., 2021, p. 1). The bill's most significant change required the CSRO to conduct evidentiary hearings within 150 days. CSRO evidentiary hearings had previously had no time limits and took an average of 10 months (Underwood et al., 2021, pp. 10-12).
Most recently, Utah enacted H.B. 104 in 2022. This bill made newly hired state supervisors at-will.[10] The bill instead allowed each agency to create an internal appeals process for at-will employees. It also incentivized incumbent supervisors to forfeit their CS protections in exchange for higher pay.[11] [12] The career service now covers 64 percent of Utah state employees. The remaining 36 percent serve at-will. (Underwood et al., 2021, p. 19).
Expanding at-will Employment to All State Employees Would Improve State Operations
Utah could build on these reforms by making all, rather than just some, CS employees at-will. Several other states have made their state workforces more or even entirely at-will. Their experience suggests universal at-will employment would improve Utah government operations.
Texas, known as the "grandfather of civil-service-free states," abolished the Texas Merit Council—and thus its civil service system—in 1985 (Walters, 2002, p. 16). The legislation was passed by a Democrat majority legislature and signed by former Democratic Governor Mark White. Every employee in Texas state government currently serves at-will. A survey asked Texas HR directors their views on how at-will employment affects state operations. Table 1 summarizes their responses.
Texas HR directors widely believe at-will employment makes employees more responsive to the goals and priorities of agency administrators, provides essential managerial flexibility, helps remove poor performers, and is an essential component of modern government management. Texas state HR directors report nearly all separations occur for a good cause, and patronage appointments are virtually nonexistent (Coggburn, 2006, pp. 163-69).
Another study of Texas state HR directors reports they "highly value the discretion they receive as a product of the state's decentralized approach. In fact, there was widespread agreement—even among those respondents lacking in HR expertise—that HR flexibility was key to state agencies' effectiveness." Texas HR managers also report "virtually no pressure on them to make personnel decisions based on someone's political loyalty or lack thereof" (Walters, 2002, pp. 19-21).
In 1996, Georgia's Democrat-controlled legislature and Democrat Governor Zell Miller enacted legislation that designated all newly hired state employees as at-will. Virtually all Georgia state employees now serve at-will. State reporting finds managerial abuses of the new system are almost nonexistent.[13]
In 2001, Florida's Republican-controlled legislature and Republican Governor Jeb Bush made almost all state managers and supervisors at-will. "Virtually every agency personnel director interviewed [in Florida, Georgia, and Texas] expressed the strong opinion that there was life after civil service reform and that it was considerably better" (Walters, 2002, p. 39).