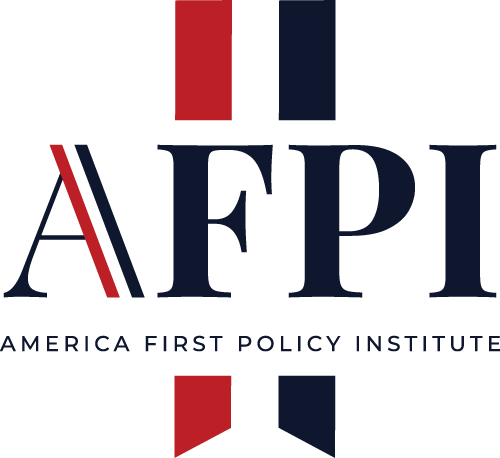 Center for Opportunity Now
Fatherlessness In Illinois
December 21, 2022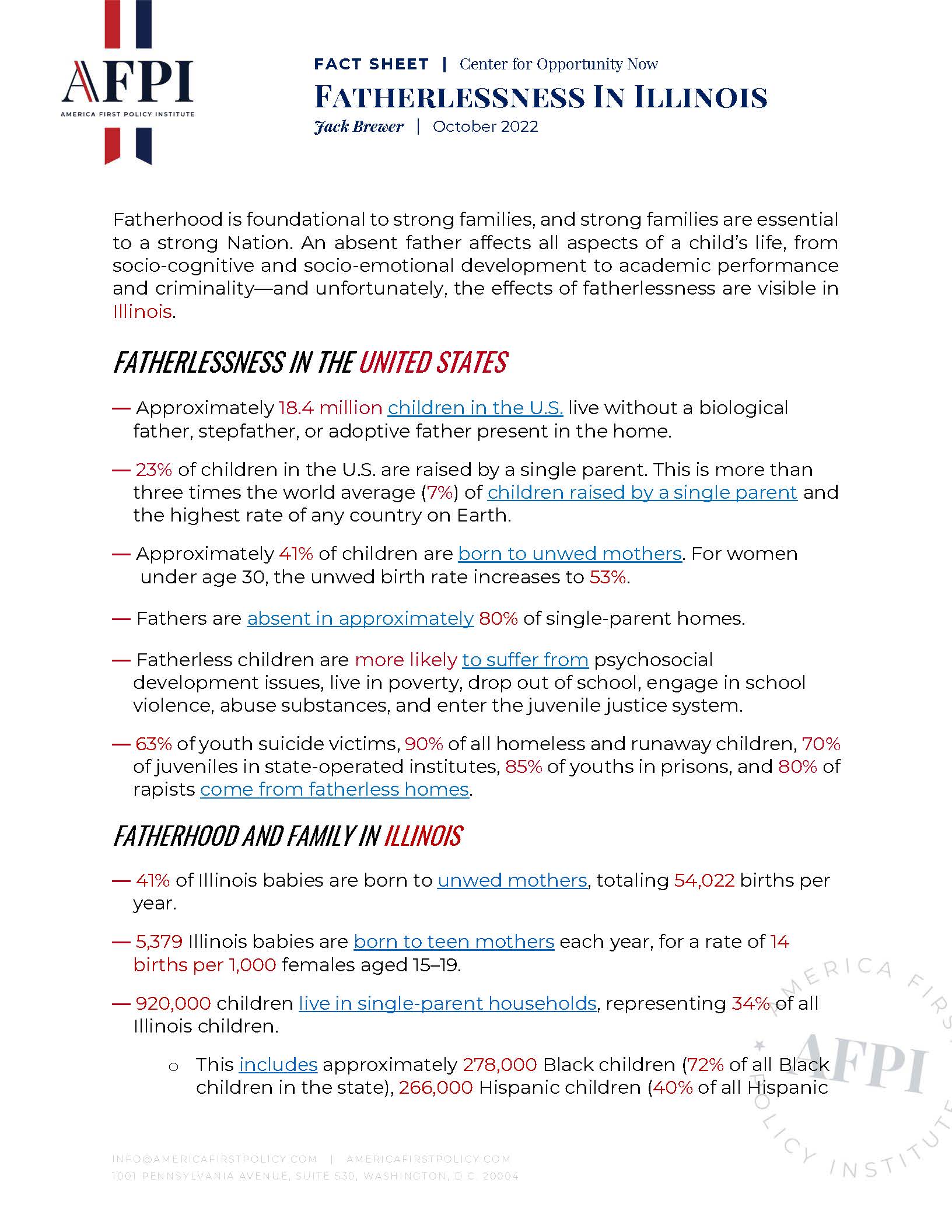 Download
Full Report
Fatherhood is foundational to strong families, and strong families are essential to a strong Nation. An absent father affects all aspects of a child's life, from socio-cognitive and socio-emotional development to academic performance and criminality—and unfortunately, the effects of fatherlessness are visible in Illinois.
FATHERLESSNESS IN THE UNITED STATES
— Approximately 18.4 million children in the U.S. live without a biological father, stepfather, or adoptive father present in the home.
— 23% of children in the U.S. are raised by a single parent. This is more than three times the world average (7%) of children raised by a single parent and the highest rate of any country on Earth.
— Approximately 41% of children are born to unwed mothers. For women under age 30, the unwed birth rate increases to 53%.
— Fathers are absent in approximately 80% of single-parent homes.
— Fatherless children are more likely to suffer from psychosocial development issues, live in poverty, drop out of school, engage in school violence, abuse substances, and enter the juvenile justice system.
— 63% of youth suicide victims, 90% of all homeless and runaway children, 70% of juveniles in state-operated institutes, 85% of youths in prisons, and 80% of rapists come from fatherless homes.
FATHERHOOD AND FAMILY IN ILLINOIS
— 41% of Illinois babies are born to unwed mothers, totaling 54,022 births per year.
— 5,379 Illinois babies are born to teen mothers each year, for a rate of 14 births per 1,000 females aged 15–19.
— 920,000 children live in single-parent households, representing 34% of all Illinois children.
This

includes

approximately

278,000

Black children (

72%

of all Black children in the state),

266,000

Hispanic children (

40%

of all Hispanic children, and

314,000

White children (

23%

of all White children in the state).
EDUCATIONAL OUTCOMES IN ILLINOIS
— 66% of Illinois 4th-graders scored "below proficient" in reading for their class level.
— 66% of Illinois 8th-graders scored "below proficient" in mathematics for their class level.
— 24% of Illinois 4th-graders are considered "chronically absent" from school.
— 14% of Illinois high school students do not graduate on time.
CHILDREN'S HEALTH OUTCOMES IN ILLINOIS
— 581,409 Illinois children have one or more emotional, behavioral, or developmental conditions, representing 24% of all children in Illinois.
— 212,845 Illinois teens have anxiety or depression, representing 9% of all teens in Illinois.
— 48% of Illinois children and teens do not get regular exercise or vigorous physical activity.
— 42,000 of Illinois teens report dependence on illicit drugs or alcohol each year.
JUVENILE CRIME IN ILLINOIS
— 36,154 juveniles are arrested in Illinois each year.
— 834 Illinois youths reside in juvenile detention, correctional, or residential facilities.
CHILD OUTCOMES IN CHICAGO
— 341,382 students are enrolled in Chicago public schools, and 90% of those students are minorities.
— 25% of students test at or above the proficiency level for reading, and 21% test at that level for math.
— 8 out of 10 Black births in Chicago are to unwed mothers.
— 33% of all families in Chicago are led by single parents.
— White students graduate from a 4-year university in Chicago at nearly twice the rate of Black students (73% vs. 37%).
— Employed Black young adults aged 20–24 in Chicago earn an average of $14,000 per year, compared to an average of $34,000 per year for White young adults.
— Nearly 50,000 Chicago youth aged 16–24 are neither working nor in school, which is about 15% of all Chicago youth.