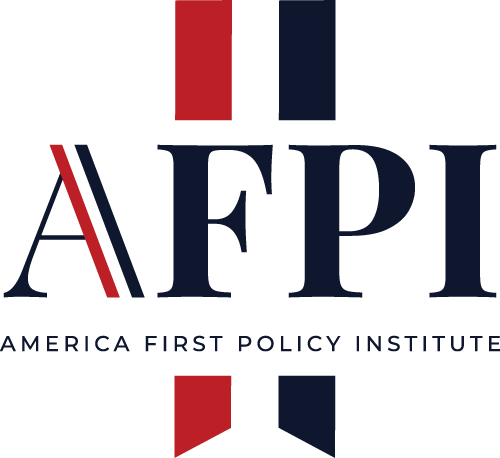 Center for Homeland Security and Immigration
Center for Homeland Security and Immigration Overview
May 26, 2021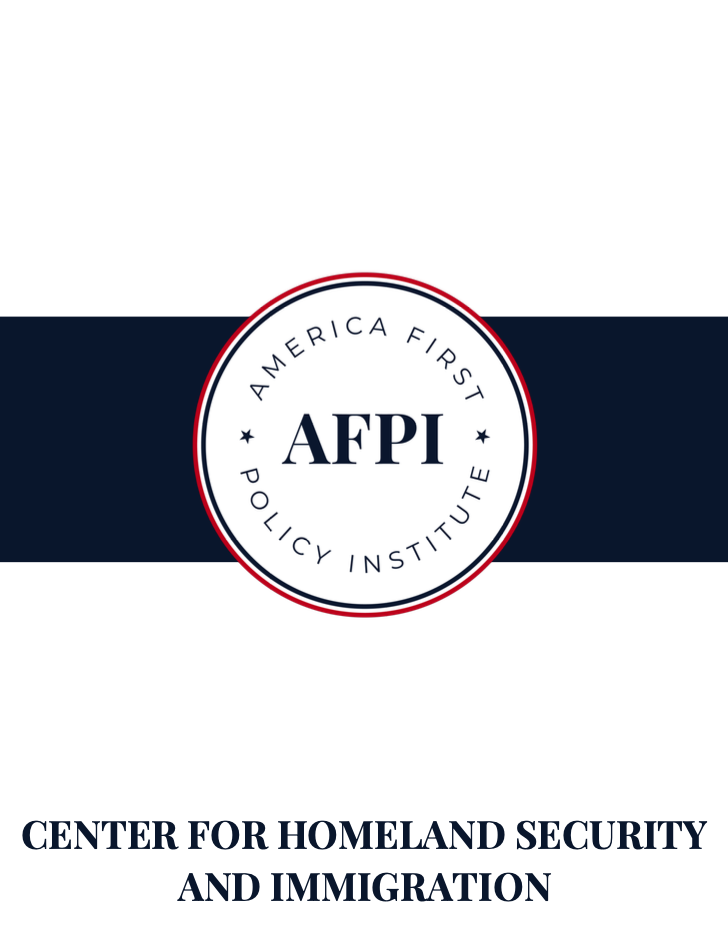 Download
Full Report
The America First Policy Institute's (AFPI) Center for Homeland Security and Immigration is devoted to protecting the American people, American interests, and the American way of life. Our team's experience and efforts, both in and out of government service, have taught us that those who seek to injure Americans at home and abroad do not hesitate to target our freedoms and our institutions. Constant vigilance on the part of each and every American is required to prevent harm.
As our world becomes more complex, so do the threats we face. Terrorism remains a global reality, and America's ability to prevent attacks in the United States is only as strong as its weakest link at any given moment. America's enemies no longer need to physically come to our shores to hurt us in the digital age. Threats that strike at the heart of our infrastructure—and, therefore, our civilization—can be achieved with the touch of a button from anywhere in the world. In some cases, these threats are sponsored or shielded by foreign governments; in some cases, they are foreign governments. While these threats are omnipresent, courageous leadership at all levels of government and society is essential for success and security.
The Biden Administration's first few months have demonstrated how homeland security policies can either protect or endanger Americans—and how quickly—depending on the principles and realism undergirding them. The Biden Administration's approach to key aspects of homeland security has undermined national security, public safety, and public health and put our way of life at risk. The current administration's policies reflect a swift return to positions—favored by presidents and others in both major parties in the past—that have arguably failed.
It addressed our border security and immigration challenges by building hundreds of miles of new border wall along the United States-Mexico border (and assuring funding for even more) (CBP, 2021), providing Department of Homeland Security (DHS) personnel with the tools, resources, and support they needed to secure the border and enforce immigration law in the interior of the country (AILA, 2017),1 protecting the unaccompanied alien children (UACs) who were trafficked to the United States (Foley & Chapin, 2018 & FR Doc. 2020-29182, 2021), protecting American workers whose jobs and futures were threatened by cheap foreign labor (Exec. Order No. 13788, 2017),2 reasserting sovereign control over our immigration policies(CRS, 2020 & Wintour, 2017), and fraud- proofing the naturalization process (DOJ, 2020 & Alvarez, 2020).3
It reversed an arguably lax approach to domestic terrorism by immediately banning the entry of insufficiently screened and vetted foreign nationals from high-threat countries (Exec. Order No. 13780, 2017), enhancing the screening and vetting of foreign nationals seeking to enter the United States at home and abroad (Fox News, 2018, Shear, 2017, & Maurer, 2017),4 boosting cooperation with foreign governments to improve international security-focused cooperation (Trump, 2017),5 shifting critical resources to assure thorough screening and vetting of asylum and refugee populations seeking to enter the United States (Frazee, 2019), and taking other steps to prevent transnational criminal and other organizations from infiltrating and conducting illicit business in the United States (Houghton, 2017).
It reinforced critical domestic infrastructure by permanently dedicating DHS personnel and resources to infrastructure monitoring and protection (Cimpanu, 2018), launching several domestic working groups to improve infrastructure-related coordination with private industry (CISA, 2020, CISA, 2021, & NIST),6 expanding international cooperation to identify and stay one step ahead of global threats to infrastructure (Beavers, 2018),using existing resources to harden some domestic infrastructure (Chalfant & Miller, 2020, DHS, 2019, & DHS, 2020a), and taking an infrastructure-based approach to protecting American health during the COVID-19 pandemic (FEMA, 2020 & DHS, 2020b).7
It curbed foreign influence in our institutions by developing a strategic plan to specifically counter the People's Republic of China's (PRC) economic and other abuses of our freedoms (Trump, 2020), prohibiting PRC nationals with connections to the Chinese Communist Party (CCP) from applying for student visas for national security-sensitive graduate programs (Wong & Barnes, 2020), addressing the vulnerabilities of American universities and colleges to foreign funding (Reichmann, 2020),8 halting slave labor-based imports (Lawder, 2021),9 and initiating greater scrutiny of the efforts of foreign actors to undermine domestic election security (CRS, 2019).
The Biden Administration's approach to homeland security and immigration to date is arguably the metaphorical embodiment of an "America Last" approach. Failure to prioritize American interests can have severe and even lethal effects on Americans, their security, and their freedoms. Below is only a snapshot of the current administration's actions and inactions that may be putting Americans at risk:
Reversing Immigration Gains: The Biden Administration reversed unprecedented improvements in border security and immigration enforcement at a record-setting pace. Since January 20, 2021, it has effectively, if not literally, invited hundreds of thousands of foreign nationals to seek asylum or illegally enter the United States (and created from whole cloth a massive humanitarian failure in the process) (Hoonhout, 2020, Binder, 2019, & Bensman, 2021), shut down international cooperation that had successfully reduced illegal immigration to the United States between 2017 and 2021 (Miroff, 2020, Blinken, 2021, & Shaw, 2021),10 exposed Americans to unknown COVID-19 risk through the unchecked entry of potentially tens of thousands of contagious individuals at the United States-Mexico border (Morrison & Giaritelli, 2021 & Miller, 2021),11 established new benefits for illegal aliens in a time of threats to Americans' freedom and opportunities (USCIS, 2021a, Hackman, 2021a, Bedard, 2021, Moore, 2021, & Ramos, 2021),12 and withdrawn regulations and other policies that had been designed to prevent employers from employing illegal labor and suppressing wages (Hackman, 2021b, Guzzardi, 2021, USCIS, 2021b, & Barrett, 2021).13 These and other reversals of American-focused policies are key elements of an intentional campaign to swell the illegal alien population in the United States and create artificial pressure for a future amnesty (Binder, 2021a, Pollak, 2021, Munro, 2021, & Jaffe, 2021).14
Weakening Counterterrorism Capacity: The Biden Administration has taken steps to reduce our capacity to screen and vet foreign nationals seeking to come to the United States and make it more difficult to identify threats already on our soil. Since January 20, 2021, it has canceled the previous administration's terror-focused travel restrictions (Bradner, Klein & Hickey, 2021), restored catch and release (Eustachewich, 2021, Stimson, 2021, & McDuffee, 2021), added to an already overwhelming asylum case backlog (Ordonez, 2021 & Keene, 2021),15 accelerated refugee admissions commitments beyond current federal screening and vetting capacity (which also fuels the asylum case backlog (Binder, 2021b, Alvarez & Vazquez, 2021, DOS, 2021, & Mora, 2021),16 and politicized counterterrorism efforts in a way that may ultimately increase the American public's risk of, and exposure to, terrorism from domestic and international sources (Evans, 2021, Robertson & Mehsud, 2021, Qandil, 2021, & Hoft, 2021).17
Exposing Critical Infrastructure: The Biden Administration's initial missteps on critical physical and digital infrastructure raise early concerns about its strategy and have the potential to send the wrong signals to both friends and enemies. Since January 20, 2021, it has missed opportunities to harden key physical infrastructure in a supportive congressional environment (Kovaleski, 2021), conveyed a federal willingness to respond to cyberterrorists' demands (and support others who do) (Garber, 2021),18 re-engaged with foreign governments that are known sponsors of cyberterrorism (Cimpanu, 2020, Taylor, 2021), and stripped existing protections of critical infrastructure in the possible absence of viable substitutes (Exec. Order No. 13920, 2020, Exec. Order No. 13990, 2021).
Resurrecting Foreign Influence: The Biden Administration has demonstrated a willingness to return to warmer relationships with foreign powers that have undermined the United States in the past and may continue to do so. Since January 20, 2021, it has eliminated university transparency requirements designed to highlight foreign funding (Davidson, 2021 & (Dunleavy, 2021)), provided economic benefits to potentially hostile state actors (Lawler, 2021), and implied a lack of concern about foreign interference in domestic elections (Phillips, 2021 & Jalonick & Tucker, 2020).19
While recent polling on immigration is generally positive and reflects America's historical embrace of immigration, it also reflects concerns about the Biden Administration's handling of the United States-Mexico border situation and perspective on the immigration system as a whole. For example:
A Rasmussen Reports poll, conducted from March 8-9, 2021, states that "73% of Likely U.S. Voters are concerned about the government's ability to handle the growing numbers of migrants at the border while meeting COVID-19 protocols." More than 60 percent of these same likely voters favor fundamental changes to, or elimination of, immigration law pull factors in exchange for amnesty for illegal aliens (Rasmussen, 2021).
A Pew Research Center poll, conducted from April 5-11, 2021, states that "majorities in both parties say the government has done a bad job of dealing with the influx of asylum seekers at the border." The poll also notes that "clear majorities of both Democrats and Republicans say it is at least somewhat important both to increase staff and resources available to patrol and police the border and to process [UACs] more quickly" (Pew Research, 2021).
A Pew Research Center poll of Hispanic Americans, conducted in March 2021, notes that 44 percent of Hispanic Americans, which is close to the 48 percent for U.S. adults overall, have expressed that "illegal immigration is a very big problem in the country today." While 68 percent of Hispanic Republicans supported increasing security along the United States-Mexico border, one in three Hispanic Democrats also favored increasing border security (Krogstad & Lopez, 2021).
The security concerns of Americans go beyond immigration. A Pew Research Center panel poll, conducted from February 1-7, 2021, found that approximately 90 percent of Americans view the PRC as an enemy or competitor rather than a friend or partner. More than half of Americans also believed there should be limits on student visas for Chinese nationals to mitigate the threat of the PRC's influence in the United States (Silver, Devlin, & Huang, 2021).
AFPI represents a unique voice in the homeland security arena. While other non-profit organizations can provide research and perspective on issues, AFPI offers the academic work and real-world experience of the men and women who were part of the mission in both the Trump Administration and other administrations and have put ideas to the test. This empowers AFPI to do the following:
Policy: AFPI aims to produce well-researched and -developed draft executive policies and legislation that will inspire federal, state, and local government officials and everyday American citizens to consider the best way to protect and defend Americans and provide the beachhead for future success.
Determine how a potential refocusing of DHS on interior immigration enforcement, a more agile and flexible cross-agency immigration workforce, interior immigration enforcement standards, immigration detention space needs, and greater federal, state, and local law enforcement collaboration could impact domestic security and public safety
Consider how international agreements, visa sanctions, and 21st-century economic development could ultimately impact mass illegal immigration and asylum fraud in the western hemisphere
Educate about success-oriented, merit-based immigration concepts, the diversity visa lottery, the naturalization process, the potential value of assimilation, and other aspects of our immigration system that put Americans first
Evaluate options for reducing federal bureaucratic challenges and inefficiencies in our immigration programs, including the visa issuance and asylum adjudication processes
Assess the impact of amnesty proposals and messaging, the Flores settlement agreement, and other features of the current immigration landscape on mass illegal immigration and human trafficking in the western hemisphere
Vigilance against terrorism, an ever-present threat at home and abroad, requires a certain perspective and certain resources. We will provide research and products that do the following:
Assess the impact of the National Vetting Center and federal screening and vetting authorities, including the effect of modern technology on the screening and vetting process, on our government's ability to ensure domestic security and public safety
Evaluate how greater information-sharing and cooperation with foreign governments could impact both domestic and international security
Consider how recent changes to domestic refugee admissions and resettlement processes could affect federal screening and vetting capacity, domestic security and public safety, and other governmental obligations to the American people
Understand how past and present domestic federal and collaborative counterterrorism tools enhance law enforcement's and citizens' abilities to disrupt organized violence
America's physical and digital infrastructure is the indispensable core of modern civilization. We will provide research and products that do the following:
Review the degree to which our nationwide physical infrastructure, including power grids, water supply systems, and transportation networks, might be vulnerable to malicious actors and natural phenomenon (Dockrill, 2018) and what steps could be taken to shield that infrastructure against future harm20
Evaluate which domestic policies and enforcement mechanisms have proven most effective for tackling cyberterrorists and their weapons of choice, including ransomware attacks
Consider how alterations to, or reinforcements of, the critical infrastructure workforce could impact domestic and international security
Review of existing international coordination and collaboration efforts against malicious cyber actors and their attacks, as well as their state sponsors or protectors, and the degree to which they have been effective
America's best interests should always drive the way the United States interacts with foreign governments and peoples. We will provide research and products that do the following:
Assess the degree to which foreign governments and populations assert influence on American institutions and populations in ways that might not ultimately serve the best interests of our Nation and identify those potentially malign influences
Evaluate the degree to which foreign governments and populations impact American universities and colleges, including through different types of monetary or other support.
Review how sanctions against foreign governments and populations, including visa sanctions, could impact foreign governments' or populations' actions
Understand how international slave labor impacts the domestic and international economies, intergovernmental coordination, and the global human rights landscape
Determine the degree to which foreign governments and populations might have the capacity to digitally influence or interfere with American elections and propose steps to address any identified vulnerabilities
America's recent experiences have shown us there is a difference between a nation that has leadership and a nation that is in charge. This lesson is all too apparent when it comes to homeland security. AFPI is committed to presenting products and ideas that have been proven to work in the past.
The Honorable Chad Wolf is the Chair of AFPI's Center for Homeland Security and Immigration.
John Zadrozny is the Director of AFPI's Center for Homeland Security and Immigration.