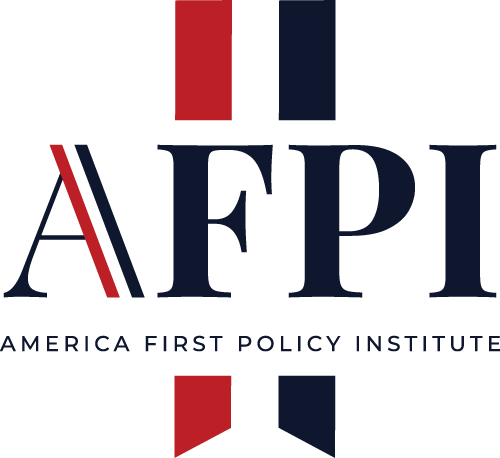 In case you missed it: Florida school board election update
September 28, 2022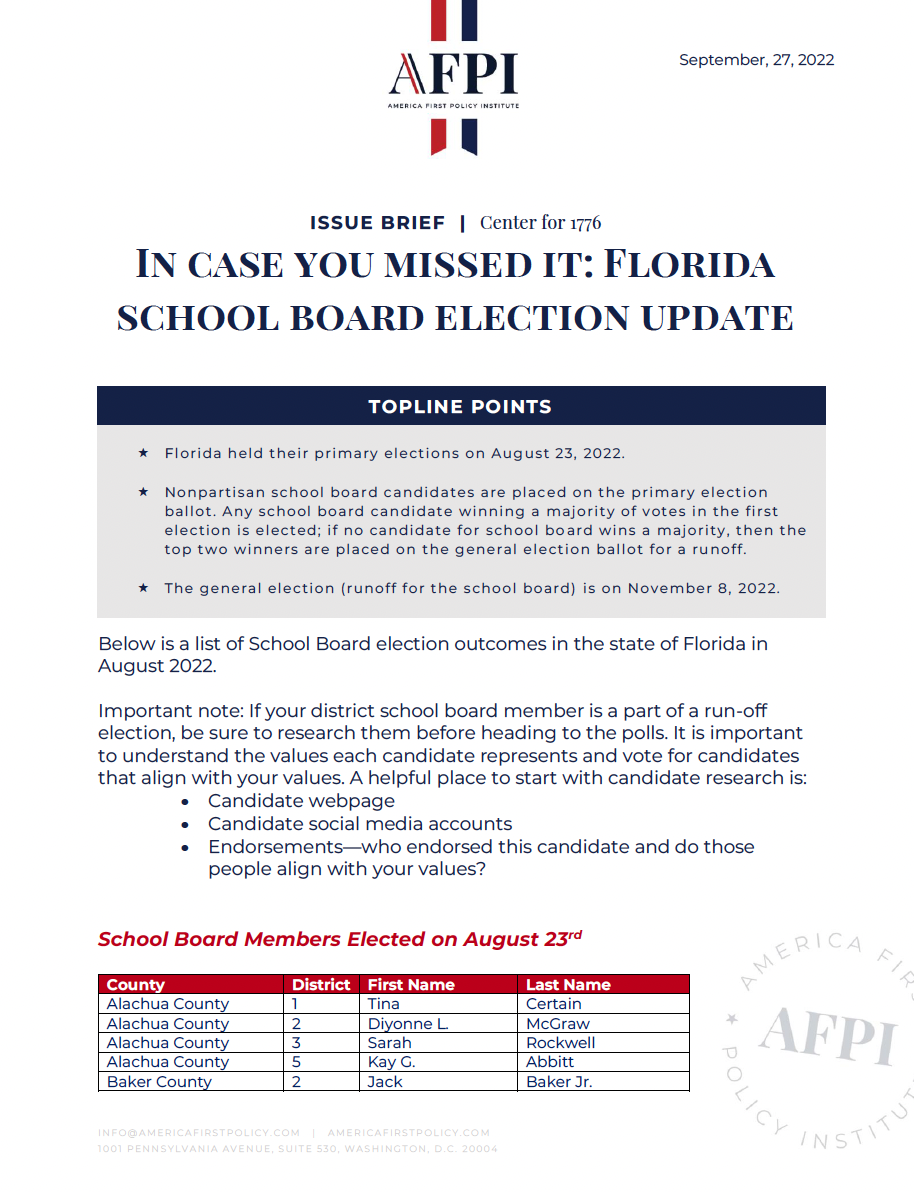 Download
Full Report
TOPLINE POINTS
Florida held their primary elections on August 23, 2022.
Nonpartisan school board candidates are placed on the primary election ballot. Any school board candidate winning a majority of votes in the first election is elected; if no candidate for school board wins a majority, then the top two winners are placed on the general election ballot for a runoff.
The general election (runoff for the school board) is on November 8, 2022.
Below is a list of School Board election outcomes in the state of Florida in August 2022.
Important note: If your district school board member is a part of a run-off election, be sure to research them before heading to the polls. It is important to understand the values each candidate represents and vote for candidates that align with your values. A helpful place to start with candidate research is:
Candidate webpage

Candidate social media accounts

Endorsements—who endorsed this candidate and do those people align with your values?
School Board Members Elected on August 23rd
| | | | |
| --- | --- | --- | --- |
| County | District | First Name | Last Name |
| Alachua County | 1 | Tina | Certain |
| Alachua County | 2 | Diyonne L. | McGraw |
| Alachua County | 3 | Sarah | Rockwell |
| Alachua County | 5 | Kay G. | Abbitt |
| Baker County | 2 | Jack | Baker Jr. |
| Baker County | 3 | Paula | Barton |
| Bay County | 2 | Ann | Leonard |
| Bay County | 3 | Christopher | Moore |
| Bay County | 5 | Steve | Moss |
| Bradford County | 1 | Sheila | Cummings |
| Bradford County | 2 | Gayle Shuford | Nicula |
| Bradford County | 5 | Lynn | Melvin |
| Brevard County | 1 | Megan | Wright |
| Brevard County | 5 | Katye | Campbell |
| Broward County | 4 | Lori Kim | Alhadeff |
| Broward County | 7 | Nora | Rupert |
| Charlotte County | 1 | Cara Marie | Reynolds |
| Charlotte County | 4 | John | LeClair |
| Citrus County | 1 | Thomas | Kennedy |
| Citrus County | 3 | John | Thrumston |
| Clay County | 1 | Erin | Skipper |
| Clay County | 4 | Michele E. | Hanson |
| Clay County | 5 | Ashley | Gilhousen |
| Columbia County | 1 | Narragansett | Smith |
| Columbia County | 3 | Cherie Dicks | Hill |
| Desoto County | 1 | Jami | Schueneman |
| Desoto County | 2 | Sharon T. | Goodman |
| Desoto County | 4 | Asena | Mott |
| Desoto County | 5 | Kelly | Mercer |
| Duval County | 2 | April | Carney |
| Duval County | 4 | Darryl | Willie |
| Duval County | 6 | Charlotte | Joyce |
| Escambia County | 1 | Kevin | Adams |
| Escambia County | 3 | David | Williams |
| Flagler County | 1 | Sally | Hunt |
| Flagler County | 4 | Christy | Chong |
| Gadsden County | 3 | Leroy | McMillan |
| Gilchrist County | 1 | Christie | McElroy |
| Gilchrist County | 3 | Michelle | Walker-Crawford |
| Gilchrist County | 5 | Dustin Deen | Lancaster |
| Glades County | 1 | Crystal W. | Drake |
| Glades County | 4 | Kimberly Lynn | Clement |
| Glades County | 5 | Patricia | Pearce |
| Hamilton County | 1 | Cheryl Deas | McCall |
| Hamilton County | 4 | Johnny | Bullard |
| Hamilton County | 5 | Sammy | McCoy |
| Hendry County | 3 | Amanda S. | Nelson |
| Hendry County | 5 | Jon | Basquin |
| Hernando County | 3 | Shannon L. | Rodriguez |
| Highlands County | 1 | Isaac | Durrance |
| Highlands County | 4 | Reese E. | Martin |
| Highlands County | 5 | Nicole | Radonski |
| Hillsborough County | 2 | Stacy | Hahn |
| Hillsborough County | 4 | Patricia | Rendon |
| Hillsborough County | 6 | Karen | Perez |
| Holmes County | 1 | Charley | Wilson |
| Holmes County | 3 | Natalie Motley | Miller |
| Holmes County | 5 | Leesa Manning | Lee |
| Indian River County | 1 | Gene | Posca |
| Indian River County | 4 | Teri Lee | Barenborg |
| Jackson County | 1 | Chephus D. | Granberry |
| Jackson County | 4 | Christopher M. | Johnson |
| Jackson County | 5 | Michael | Jackson |
| Jefferson County | 2 | Willie Ann | Dickey |
| Jefferson County | 3 | Brenda Bentley | Wirick |
| Jefferson County | 5 | Mags | Flynt |
| Lake County | 1 | William John | Mathias |
| Lake County | 3 | Marc Anthony | Dodd |
| Lake County | 5 | Stephanie Ann | Luke |
| Lee County | 5 | Armor | Persons |
| Leon County | 1 | Alva Swafford | Striplin |
| Leon County | 5 | Marcus Bernard | Nicolas |
| Levy County | 1 | Cameron | Asbell |
| Levy County | 3 | Ashley | Clemenzi |
| Levy County | 5 | Devin | Whitehurst |
| Liberty County | 3 | Darrel | Hayes |
| Liberty County | 4 | Jason | Singletary |
| Liberty County | 5 | Charles | Morris III |
| Madison County | 3 | VeEtta L. | Hagan |
| Manatee County | 4 | Wesley | Choate III |
| Manatee County | 5 | Richard William | Tatem |
| Marion County | 2 | Lori | Conrad |
| Marion County | 3 | Eric Ruben | Cummings |
| Marion County | 4 | Nancy | Thrower |
| Marion County | 5 | Sarah | James |
| Martin County | 1 | Christia Li | Roberts |
| Martin County | 3 | Jennifer | Russell |
| Martin County | 4 | Amy B. | Pritchett |
| Miami- Dade County | 2 | Dorothy | Bendross-Mindingall |
| Miami- Dade County | 4 | Roberto J. | Alonso |
| Miami- Dade County | 6 | Maria Teresa | Rojas |
| Miami- Dade County | 8 | Monica | Colucci |
| Monroe County | 1 | Darren M. | Horan |
| Monroe County | 4 | John | Dick |
| Monroe County | 5 | Sue | Woltanski |
| Nassau County | 5 | Lissa | Braddock |
| Okaloosa County | 1 | Lamar | White |
| Okaloosa County | 3 | Linda | Evanchyk |
| Okaloosa County | 5 | Diane | Kelley |
| Okeechobee County | 1 | Chistine Brennan | Bishop |
| Okeechobee County | 3 | Melisa | Jahner |
| Okeechobee County | 5 | Jill | Holcomb |
| Orange County | Chair | Teresa | Jacobs |
| Orange County | 1 | Angie | Gallo |
| Osceola County | 1 | Teresa | Castillo |
| Osceola County | 5 | Erika | Booth |
| Palm Beach County | 3 | Karen | Brill |
| Palm Beach County | 4 | Erica | Whitfield |
| Pasco County | 3 | Cynthia | Armstrong |
| Pasco County | 5 | Megan C. | Harding |
| Pinellas County | 2 | Lisa | Cane |
| Pinellas County | 7 | Caprice Johnson | Edmond |
| Polk County | 3 | Rick | Nolte |
| Polk County | 5 | Kay | Fields |
| Polk County | 6 | Justin | Sharpless |
| Putnam County | 1 | Holly H. | Pickens |
| Putnam County | 4 | Linda A. | Wagner |
| Putnam County | 5 | Phil | Leary |
| Santa Rosa County | 1 | Linda | Sanborn |
| Santa Rosa County | 3 | Carol | Boston |
| Sarasota County | 1 | Bridget | Ziegler |
| Sarasota County | 4 | Robyn A. | Marinelli |
| Sarasota County | 5 | Timothy | Enos |
| Seminole County | 1 | Kristine | Kraus |
| St. Johns County | 4 | Kelly Dawn | Barrera |
| St. Lucie County | 1 | Debbie Johnson | Hawley |
| St. Lucie County | 3 | Donna Maria | Mills |
| St. Lucie County | 5 | Troy | Ingersoll |
| Sumter County | 1 | Sally | Moss |
| Sumter County | 3 | David A. | Williams |
| Sumter County | 4 | Russell | Hogan |
| Sumter County | 5 | Kathie L. | Joiner-Robert |
| Volusia County | 5 | Ruben | Colon |
| Wakulla County | 3 | Jacob | Langston |
| Wakulla County | 5 | Laura | Lawhon |
| Walton County | 2 | Kim | Kirby |
| Walton County | 3 | William | Eddins Jr. |
| Walton County | 5 | Jason | Catalano |
| Washington County | 1 | Cynthia Johnson | Brown |
| Washington County | 4 | Will | Taylor |
| Washington County | 5 | Cheryl Ann | Williams |
School Board Runoff Elections on November 8th
County

District

First Name

Last Name

Baker County

4

Amanda

Canaday

Baker County

4

Michele

Hodges

Brevard County

2

Erin

Dunne

Brevard County

2

Gene

Trent

Broward County

1

Rodney Gabriel

Velez

Broward County

1

Marie Murray

Martin

Broward County

5

Jeff

Holness

Broward County

5

Ruth

Carter-Lynch

Broward County

6

Steven R.

Julian

Broward County

6

Brenda

Fam

Broward County

8

Donna Pilger

Korn

Broward County

8

Allen Ridgdill

Zeman

Citrus County

5

Joseph

Faherty

Citrus County

5

Linda B.

Powers

Collier County

1

Jerry D.

Rutherford

Collier County

1

Jory Ellen

Westberry

Collier County

3

Kelly E.

Lichter

Collier County

3

Jen

Mitchell

Collier County

5

Timothy

Moshier

Collier County

5

Roy M.

Terry III

Columbia County

5

Hunter

Peeler

Columbia County

5

Elizabeth

Porter

Escambia County

2

Paul

Fetsko

Escambia County

2

Raymond

Guillory

Flagler County

2

Courtney

VandeBunte

Flagler County

2

Will

Furry

Gadsden County

2

Steve

Scott

Gadsden County

2

Rodney

Moore

Gadsden County

4

Charlie

Frost

Gadsden County

4

Cynthia

Hayes-Riley

Hendry County

4

Stephanie

Busin

Hendry County

4

Joe

Whitehead

Hernando County

1

Kay

Hatch

Hernando County

1

Mark

Johnson

Hernando County

5

Susan D.

Duval

Hernando County

5

Monty

Floyd

Indian River County

2

Jacqueline

Rosario

Indian River County

2

Cynthia

Gibbs

Lake County

2

Tyler David

Brandeburg

Lake County

2

Jim

Miller

Lee County

1

Sam

Fisher

Lee County

1

Kathy

Fanny

Lee County

4

Dan

Severson

Lee County

4

Debbie

Jordan

Lee County

6

Jada Langford

Fleming

Lee County

6

Denise

Nystrom

Leon County

3

Darryl

Jones

Leon County

3

Harrison

Arencibian

(Write-In)

Leon County

4

Laurie Lawson

Cox

Leon County

4

Alexander L.

Stemle

Madison County

1

Katie

Knight

Madison County

1

Marvin

Mattair

Madison County

5

Donnell L.

Davis

Madison County

5

Devin K.

Thompson

Manatee County

2

Cindy

Spray

Manatee County

2

Harold E.

Byrd Jr.

Nassau County

1

Shannon G.

Hogue

Nassau County

1

Jamie

Deonas

Nassau County

3

Curtis

Gaus

Nassau County

3

Albert J.

Wagner

Orange County

2

Maria

Salamanca

Orange County

2

Heather

Ashby

Orange County

3

Alicia K.

Farrant

Orange County

3

Michael

Daniels

Orange County

3

Robert A.

Lynn (Write-In)

Osceola County

4

Will

Fonseca

Osceola County

4

Heather

Kahoun

Palm Beach County

6

Marcia

Andrews

Palm Beach County

6

Jennifer Lynn Miller

Showalter

Palm Beach County

7

Edwin

Ferguson

Palm Beach County

7

Corey Michael

Smith

Pasco County

1

Al

Hernandez

Pasco County

1

James M.

Washington

Pinellas County

3

Keesha

Benson

Pinellas County

3

Dawn

Peters

Pinellas County

6

Stephanie

Meyer

Pinellas County

6

Brian M.

Martin

Polk County

7

Jill

Sessions

Polk County

7

Lisa Bone

Miller

Santa Rosa County

5

Pete

Peters

Santa Rosa County

5

Scott

Peden

Seminole County

2

Kelley

Davis

Seminole County

2

Sean

Cooper

Seminole County

5

Autumn

Garick

Seminole County

5

Dana

Fernandez

St. Johns County

1

Beverly

Slough

St. Johns County

1

Racheal Marie

Hand

St. Johns County

3

Lauren Townsend

Abell

St. Johns County

3

Jennifer

Collins

Volusia County

1

Jamie

Haynes

Volusia County

1

Albert L.

Bouie

Volusia County

3

Jessie

Thompson

Volusia County

3

Justin

Kennedy

Wakulla County

1

Dod

Walker

Wakulla County

1

Eddie

Hand