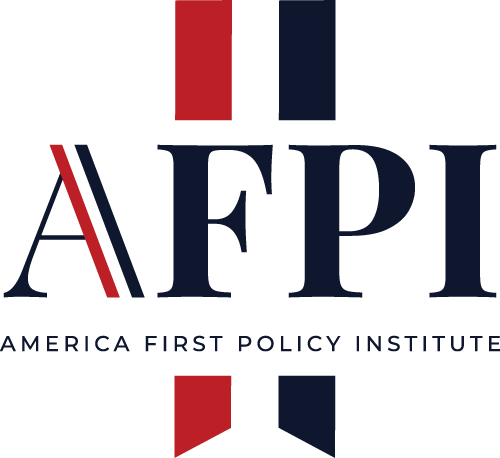 Center for American Prosperity
FACT SHEET: Central Bank Digital Currencies (CBDCs)
September 19, 2023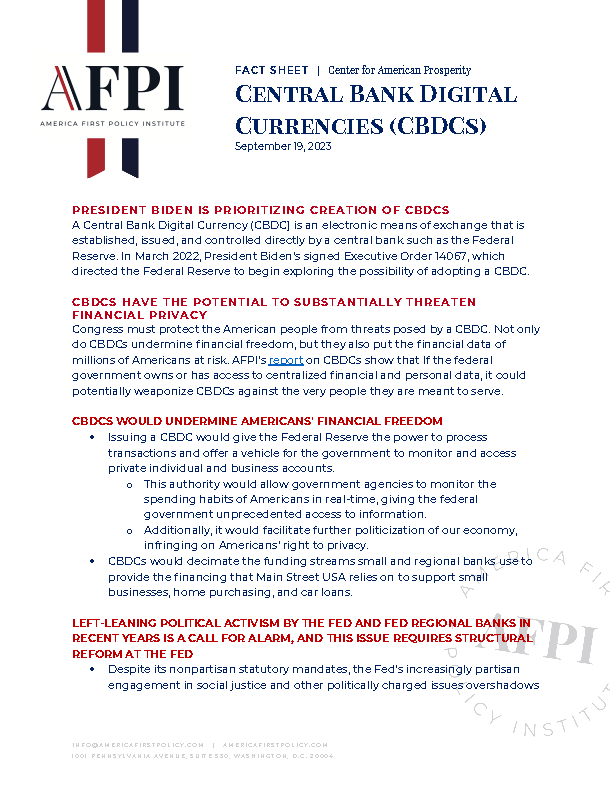 Download
Full Report
President Biden is Prioritizing Creation of CBDCs
A Central Bank Digital Currency (CBDC) is an electronic means of exchange that is established, issued, and controlled directly by a central bank such as the Federal Reserve. In March 2022, President Biden's signed Executive Order 14067, which directed the Federal Reserve to begin exploring the possibility of adopting a CBDC.
CBDCs Have the Potential to Substantially Threaten Financial Privacy
Congress must protect the American people from threats posed by a CBDC. Not only do CBDCs undermine financial freedom, but they also put the financial data of millions of Americans at risk. AFPI's report on CBDCs show that If the federal government owns or has access to centralized financial and personal data, it could potentially weaponize CBDCs against the very people they are meant to serve.
CBDCS Would Undermine American's Financial Freedom
Issuing a CBDC would give the Federal Reserve the power to process transactions and offer a vehicle for the government to monitor and access private individual and business accounts.

This authority would allow government agencies to monitor the spending habits of Americans in real-time, giving the federal government unprecedented access to information.
Additionally, it would facilitate further politicization of our economy, infringing on Americans' right to privacy.

CBDCs would decimate the funding streams small and regional banks use to provide the financing that Main Street USA relies on to support small businesses, home purchasing, and car loans.
Left-Leaning Political Activism by the Fed and Fed Regional Banks in Recent Years is a Call for Alarm, and this Issue Requires Structural Reform at the Fed
Despite its nonpartisan statutory mandates, the Fed's increasingly partisan engagement in social justice and other politically charged issues overshadows its mission to control inflation. These misplaced priorities have already resulted in a bloated balance sheet and 22-year-high interest rates.
In the last year alone, the U.S. has seen three out of the four largest bank failures in American history despite the Fed possessing immense supervisory authority.
The U.S. must never emulate China's social credit system, which China uses to punish citizens who disagree with the government by cutting them off from the economy.
Current Legislation Regarding CBDCS
Five bills and one resolution have been introduced thus far in the 118th Congress to prevent the issuance of a CBDC:
CBDC Anti-Surveillance State Act (H.R.1122)
Cease Orwellian Surveillance and Targeting Act of 2023 (H.R. 5032)
No CBDC Act (S.967)
Power of the Mint Act (H.R. 3402)
Digital Dollar Pilot Prevention Act (H.R. 3712)
Resolution: Expressing the sense of the House of Representatives that the Board of Governors of the Federal Reserve System and the Federal Open Market Committee should not be permitted to develop, create, or implement a central bank digital currency, or use any such tool to implement monetary policy (H.Res. 629)
Quick Reference of Terms:
FedNow: A payments service centralized under the Federal Reserve that the Federal Reserve launched in late July 2023 to help banks and credit unions transfer funds to their customers. FedNow is a service that financial institutions must volunteer for.
Bitcoin: The world's first and largest cryptocurrency by market capitalization. Launched in 2009 by a creator only known as "Satoshi Nakamoto." A major difference between Bitcoin and CBDCs is that Bitcoin is a decentralized currency, whereas CBDCs would be centralized under the Federal Reserve.
Blockchain: A shared, immutable ledger technology used for trustworthy record-keeping of data (e.g. transactions) without a centralized third party.
Central Bank Digital Currency (CBDC): Electronic or digital means of exchange that is established, issued, and controlled directly by a central bank, i.e., the Federal Reserve.
Digital currency: Money that exists purely in digital form and is sent electronically over the Internet. It is also known as cryptocurrency.
Fiat: Government-issued currency such as the U.S. dollar that is not backed by a commodity.
Stablecoin: A type of digital asset that maintains stable value by tying it to another asset, such as gold or the U.S. dollar.
Universal CBDC: A stablecoin or digital form of currency that relies on a central bank for infrastructure.
BOTTOM LINE: CBDCs would imperil Americans' financial freedom, privacy, and prosperity while devastating community banks. With its power of the purse, which includes the authority to administer and regulate our currency, Congress has the authority to protect the American people by stopping the creation and use of a CBDC.