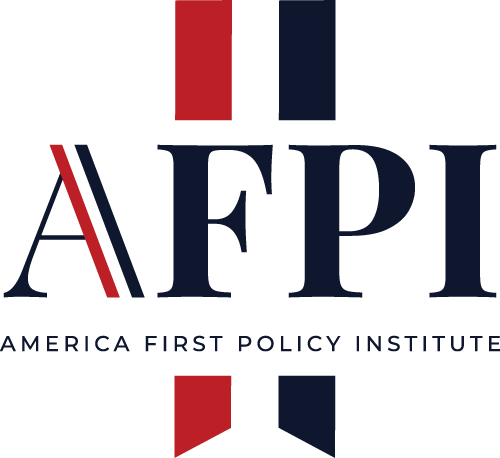 Center for American Prosperity
Top 13 Reasons Americans Oppose the Big Government Socialism Bill
November 22, 2021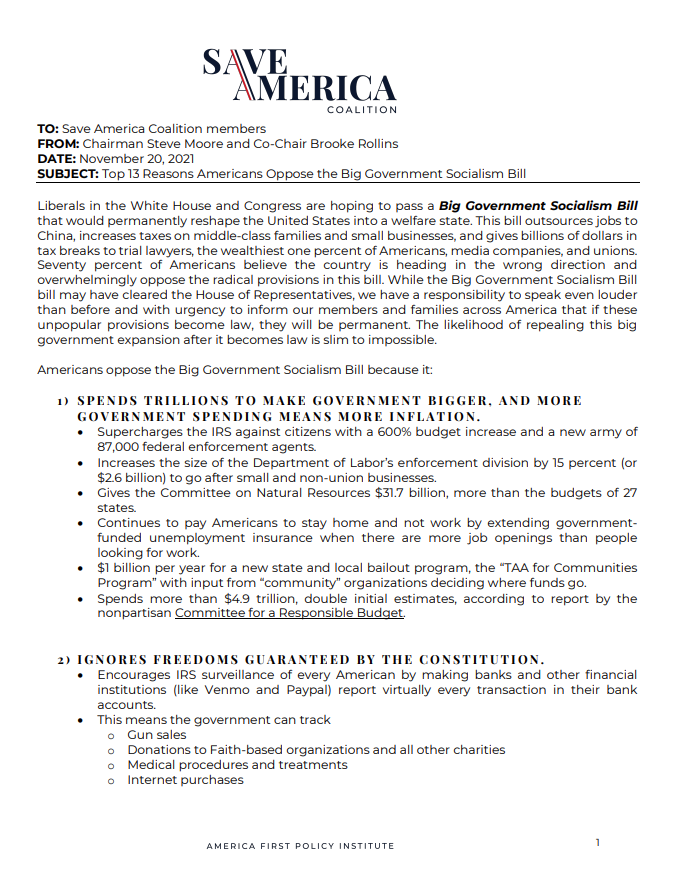 Download
Full Report
TO: Save America Coalition members
FROM: Chairman Steve Moore and Co-Chair Brooke Rollins
DATE: November 20, 2021
SUBJECT: Top 13 Reasons Americans Oppose the Big Government Socialism Bill
Liberals in the White House and Congress are hoping to pass a Big Government Socialism Bill that would permanently reshape the United States into a welfare state. This bill outsources jobs to China, increases taxes on middle-class families and small businesses, and gives billions of dollars in tax breaks to trial lawyers, the wealthiest one percent of Americans, media companies, and unions. Seventy percent of Americans believe the country is heading in the wrong direction and overwhelmingly oppose the radical provisions in this bill. While the Big Government Socialism Bill bill may have cleared the House of Representatives, we have a responsibility to speak even louder than before and with urgency to inform our members and families across America that if these unpopular provisions become law, they will be permanent. The likelihood of repealing this big government expansion after it becomes law is slim to impossible.
Americans oppose the Big Government Socialism Bill because it:
1. SPENDS TRILLIONS TO MAKE GOVERNMENT BIGGER, AND MORE GOVERNMENT SPENDING MEANS MORE INFLATION.
Supercharges the IRS against citizens with a 600% budget increase and a new army of 87,000 federal enforcement agents.
Increases the size of the Department of Labor's enforcement division by 15 percent (or $2.6 billion) to go after small and non-union businesses.
Gives the Committee on Natural Resources $31.7 billion, more than the budgets of 27 states.
Continues to pay Americans to stay home and not work by extending government-funded unemployment insurance when there are more job openings than people looking for work.
$1 billion per year for a new state and local bailout program, the "TAA for Communities Program" with input from "community" organizations deciding where funds go.
Spends more than $4.9 trillion, double initial estimates, according to report by the nonpartisan Committee for a Responsible Budget.
2. IGNORES FREEDOMS GUARANTEED BY THE CONSTITUTION.
Encourages IRS surveillance of every American by making banks and other financial institutions (like Venmo and Paypal) report virtually every transaction in their bank accounts.
This means the government can track

Gun sales
Donations to Faith-based organizations and all other charities
Medical procedures and treatments
Internet purchases

Denies funding for faith-based child care centers by stripping their eligibility for traditional child care and development block grants.
3. KILLS AMERICAN JOBS.
Raises taxes on families and small businesses across America, including to make the corporate tax rate one of the highest in the world. Fast tracks green cards for non-Americans.
Imposes large costs to American producers like farmers, manufacturers and transporters at a cost of five to nine million jobs lost.
Overturns the law that allows energy production in the Arctic, which will result in 130,000 Americans losing their jobs.
4. GIVES $100 BILLION TO ILLEGAL IMMIGRANTS AND PROMOTES OPEN BORDER POLICIES.
Gives tuition money and other aid to illegal immigrants in community colleges.
Funnels approximately $2.4 billion to add illegal immigrants under the enhanced Child Tax Credit, and removes the program's work requirement
Increases chain migration by funding at least 226,000 family-preference visa approvals per year.
Grants amnesty to around eight million illegal immigrants without restricting gang members, human traffickers, or sex offenders, at the cost of around $100 billion over ten years for welfare and other entitlements and trillions more for their Social Security and Medicare accounts.
Empowers the Department of Homeland Security to waive previous convictions for human trafficking, narcotics violations, and illegal voting in immigration courts.
Despite giving free money to illegal immigrants, the Big Government Socialism Bill refuses to allocate a single penny to build a southern border wall.
5. PROVIDES FUNDING FOR RESEARCH CONDUCTED BY THE CHINESE GOVERNMENT AND THE CHINESE COMMUNIST PARTY.
Includes Liberals' "China bill" (Endless Frontier Act) that would provide $11 Billion for research funding that would likely cause American intellectual property to go to China.
6. FAILS HOLD CHINA AND THE CHINESE COMMUNIST PARTY ACCOUNTABLE FOR SLAVE LABOR AND OTHER HUMAN RIGHTS ABUSES.
Instead of waiting five to 10 years (according to John Pershing, deputy to John Kerry) to move the United States' supply chain out of China, the Big Government Socialism Bill is spending billions ($13.5) to replace the entire United States Postal Services' global delivery fleet with electric vehicles, the largest fleet in the world with more than 230,00 vehicles, by 2030. (The World Economic Forum is only predicting 12 percent of all road transport to be electric vehicles by 2030.)
China is home to 73 percent of the world's lithium cell manufacturing.
John Kerry: "Xinjiang Province not only produces some of the solar panels that we believe are being in some cases produced in forced labor by Uyghur[s], but also there are significant amounts of a certain rare earth mineral that's used in the solar panels themselves," (See more.)
Much of the world's polysilicon, a key solar cell component, is produced in Xinjiang, the frontline of forced labor and genocide targeting Uyghur (WEE-GR) Muslims.
Liberal leaders in Congress failed to reinsert guardrails from a previous draft (Sec. 90027 / pg.1082) of the reconciliation bill that prohibited funding to any entity using the Uygur Muslims in Xinjiang province in China for slave labor.
Human Rights Watch condemned President Biden for not holding China accountable.
7. INCLUDES INNOVATION AND RESEARCH-KILLING SOCIALIST PRESCRIPTION DRUG PRICE CONTROLS AND CUTS FUNDING FOR LIFE-SAVING CURES.
Expands the Washington take-over of the health care market for drugs, which will undermine hundreds of life-saving cures for conditions like Alzheimer's, Parkinson's, ALS, diabetes, and stroke. (See more.)
8. $2 TRILLION DOLLARS IN NEW TAX HIKES FOR THE MIDDLE-CLASS.
The non-partisan Joint Committee on Taxation (JTC) found that American employees will shoulder a third of corporate tax hikes on their companies. Within ten years of a tax increase on American employers, 66.3 percent of the tax burden would fall on lower – and middle-income employees.
The left-leaning Tax Policy Center reported that President Biden's overall tax plan will raise taxes on 20 to 30 percent of middle-class families next year, ultimately rising to 95 percent of middle-class families. The tax plan, according to the Center's analysis, gives $32 billion in tax breaks to the wealthiest 5 percent of Americans.
Raises taxes on small businesses to one of the highest tax rates in the world.

Combined with state tax rates, the employer tax rate of 31 percent will be higher than Europe (21 percent) and Communist China (25 percent).

Gives so-called SALT tax breaks to millionaires in high-tax states like New York and California.
Gives new tax credits to millionaires who donate to university research institutions.
Applies the new paid leave entitlement program for employees making up to half a million dollars a year.
9. USES TAXPAYER MONEY TO SUPPORT RADICALIZING OUR COUNTRY.
$264 million to the EPA to contract with environmental "justice" groups without restrictions on groups that practice violence.
$5 billion for "environmental and climate justice block grants" and another $100 billion in green energy special interest subsidies, loans, and other carve-outs without sufficient accountability or restrictions on groups that practice violence.
$4 billion in funds for grassroots organizations to fix "racist" roads and bridges.
$1 billion per year for the "TAA for Communities Program," a new program that allows certain community organizations to direct the funds.
10. RIDDLED WITH CARVE-OUTS FOR SPECIAL INTERESTS AND BILLIONS OF DOLLARS IN TAX BREAKS BEING GIVEN TO TRIAL LAWYERS, THE WEALTHIEST ONE PERCENT, MEDIA COMPANIES AND UNIONS.
A $50,000 tax break for select members of the media, up to $1.3 billion.
$3 billion for tree planting and related projects to prioritize "tree equity."
$27.5 billion for the EPA Administrator to fund politically favored Green House Gas Reduction projects.
$25 million to address "health equity" and for health professional training programs to reduce "discrimination and bias" in the health care system.
$85 million to address the effects of climate change on pregnant women and other "individuals."
Provides a tax deduction for union dues if they are used for political activities and lobbying.
Provides a special deduction for trial lawyers.
11. CREATES DUPLICATIVE GOVERNMENT PROGRAMS AND SHORTSIGHTED POLICIES.
Prohibits several minerals withdraws that are necessary for compliance with renewable energy resource mandates.
Mandates conversion of the entire federal automotive fleet to electric vehicles despite a global microchip shortage.
Expands eligibility for free school meals to families that can afford to purchase them.
$3.1 billion to expand the Minority Business Development agency, which is sixty times over what the agency told Congress it needs.
12. ENDS AMERICA'S ENERGY INDEPENDENCE AND FORCES US TO IMPORT ENERGY FROM CHINA, RUSSIA, AND THE MIDDLE EAST.
Creates a new $8 billion home heating tax that will mean higher utility costs for families.
Creates a federal forced transition of American electricity systems to green-only sources, which will raise prices more than $1,200 annually for American businesses and families and undermine grid reliability.
13. REDUCES AMERICANS' ACCESS TO QUALITY HEALTHCARE AND USES TAXPAYER FUNDS TO PAY FOR ABORTION.
Healthcare bureaucracy and inefficiency will increase.

Expansion of Medicare to cover hearing at a cost of at least $360 billion over the next decade, which seniors can already access through Medicare Advantage plans.

The Obamacare taxpayer subsidy will expand.

Provides tax credits for health insurance to taxpayers who are 400 percent over poverty line and send the money directly to insurance companies.

Requires

health plans for low-income individuals (below 138 percent) of the federal poverty level) to include abortion coverage.